As "It's a Grand Old Flag" boomed across Adelaide Oval yesterday afternoon at the end of the 2016 SANFL Grand Final, emotions flowed from players, coaches and supporters alike. Sturt massive underdogs had beaten the overwhelming favourite Woodville-West Torrens Eagles to win the 2016 Premiership. It was Sturt's 14th premiership and the 8th I'd been lucky enough to see.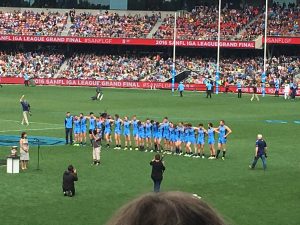 Wearing a scarf knitted by my mother and grandmother in the late 1960s a period of unparalelled Sturt success, I walked to Adelaide Oval, memories flooding back of how I had done the same with my father through the period 1967 to 1970 when Sturt were truly dominnat and perhaps the best side in Australia. My father said I was too young to go to the 1966 Grand Final!
In 2016 the SANFL plays second fiddle to the AFL however Sturt remain the team for whom my "heart beats true" and Sturt's victory in 2016 was truly a great victory. Sure it was before a crowd of just 30,000, whereas their triumphs of the 60s and 70s had been infront of crowds more than double, it was still special. It was also the first grand final victory for Sturt that I'd seen without my father who was a true Blue's man. My son too was unable to attend with work annoyingly calling him interstate – he was so annoyed!
Sturt whilst underdogs had been strong all season, and infact had led the table for a number of weeks, however they had lost to the Eagles in their three meetings during the yseason. I went hopeful but certainly not expectant.
Sturt were outplayed early in the game but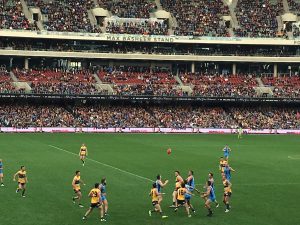 managed to stay in touch and sticking faithfully to their coach's game plan, trailed by a few points at quarter time and managed to lead by 3 points at halftime. Continue reading →