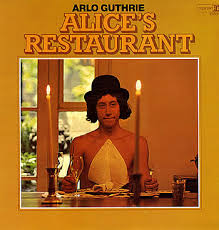 If you haven't ever listened to or haven't recently listened to Arlo Guthrie's "Alice's Restaurant, I suggest  make yourself a coffee, sit down and listen to it.
I hadn't listened top it for many years until it just appeared on a Spotify playlist I selected. Within a fraction of a second of it starting I knew exactly that it was Alice's Restaurant and more scarily I  knew every word just as though I'd only heard it the day before. It had been a regular at our Friday night singalongs in the 70s.
I thankfully was too young to be in the Vietnam Draft but knew many who were either in the Conscription ballots or were called up to serve in Vietnam, so its significance is one I understood all too well.
As the song progressed on my Spotify Play list I stopped what I was doing to listen again as I 'd done so many times before, first chuckling internally and then just laughing out aloud. And there was plenty of time to do this as its more than 18 minutes long! Too long to fit on a 45 it filled  the whole of a side on an LP (Released 1967). It's hilarious while at the same time having a pretty hard edge.
If you haven't listened to it and want too click on the link – Alice's Restaurant before reading on as there are spoilers below. Continue reading →