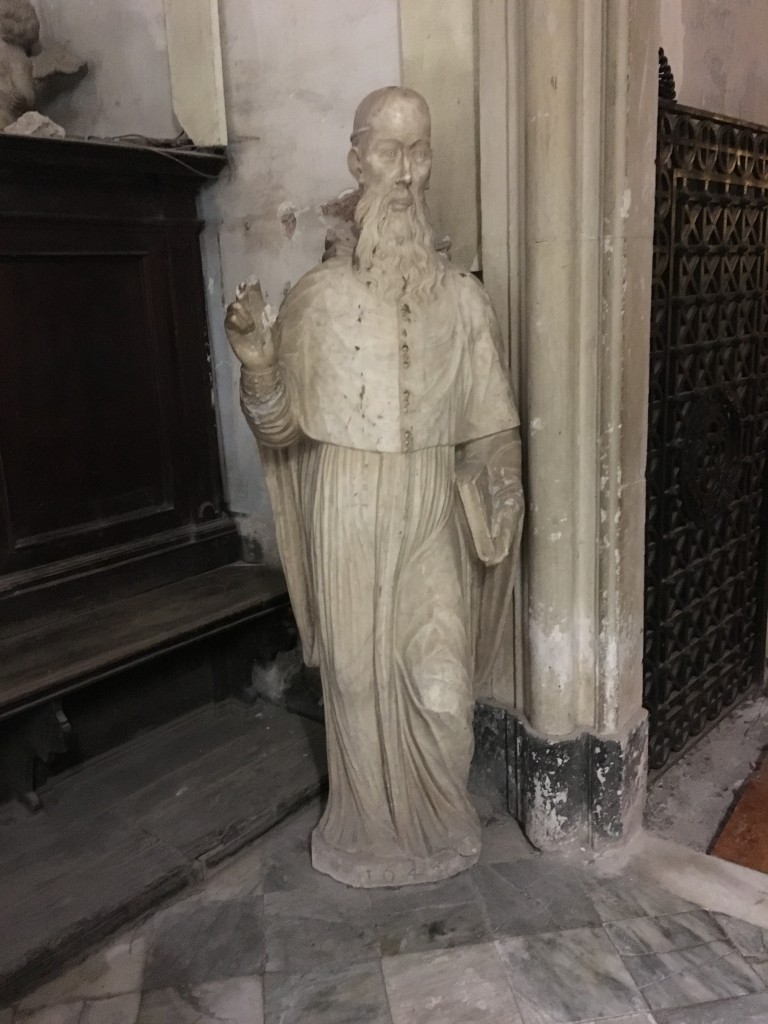 Our first visit to Catania was to meet our daughter's desire to visit Mt Etna and had been to brief, so we decided on a second visit. With it came more time to walk the streets.
Our previous visit, a couple of weeks earlier, had made it clear that observing the normal precautions of large cities meant Catania was a safe place to visit. Sure Catania is a little chaotic and gritty but it has so much to offer the traveller.
Our first visit took us through Catania's famous fish market and Piazza Duomo and a brief look at the baroque architecture, so this time we decided to venture further afield and fortunately the weather obliged.
Our hotel was a solid 15 minute walk from the bus station, a journey we took in the dark. The nearest we came to feeling unsafe was a reference to the "Ultras" graffitied on a building. All of the buildings seem to have graffiti of some sort plastered on them, adding to the gritty feeling of the city.
This visit also gave us a chance to try some of the more typical food of the region that did not include horse! In our previous visit we had been looking for quick meals but with it just being the two of us, we had a little more time and were able to sample some amazing seafood pasta from the menu at Cantania Ruffiana. It offered enough choices that we wished we had time for a return visit.
As we sat down a couple of other tourists were surveying the menu. They were a little concerned about the prices, definitely higher than the norm and walked off. As so often is the case "you get what you pay for". The cover charge, seemingly mandatory in even the cheapest Italian restaurant included bread, bruschetta and desert, so at €12 for a plate of excellent seafood pasta and €5 for half a litre of house wine (see Travel Tip below) it was good value.
After weeks of Airbnb and boutique styled hotels we felt like we needed a change and stayed in a well priced business hotel. Decent pillows, a proper double bed and satellite TV giving me a chance to watch a Third Round Replay of the FA Cup live, complete with German commentary! The trade-off was an average breakfast with ordinary coffee.
After our average breakfast and coffee, with our map of Catania and a little research we set out for a day walking the streets.
Via Etna is the main city shopping precinct. Sicily's main "outlet village" is about 30 or so minutes out of town, there is another major shopping precinct also just out of the city and an IKEA quite close to town. We didn't feel the need to visit these but a walk down Via Etna was just fine, particularly as we started in the gardens around the Villa Bellini, a respite from the seemingly endless concrete that is Catania and Sicily generally. We browsed a little along the way. Our walk finished us at the Piazza Duomo but not before we had stopped at Piazza Universita, one of the city's more relaxing piazzas thankfully devoid of cars.
We walked back through the Piazza Duomo to yet again see the Elephant Obelisk and have a (decent) coffee. Cafe Prestipino has two locations, one actually in the piazza (where we had sheltered from the rain and eaten lunch on our previous visit) and the other (much more upmarket) just before you enter it. We chose the upmarket one for this visit and stood at the bar for our coffee which meant it was still cheap! Not all places charge to sit down like they all used too, however this one does.
From there, it was across the piazza to Via Crociferi, a street that in a few hundred metres shows off four quite stunning churches. It is a street to gaze upon from the time you walk under St Benedict's Arch to its end at Villa Cerami home of the Law School of the University of Catania. We stopped at the magnificent Saint Francis of Assisi Nigh the Immaculate Church. Its exterior is imposing but stepping inside reveals its true glory. Inside the church we were able to see many of the statues being prepared for the Festival of Santa Agata which is to take place in early February.
While we were pleased to be able to visit the church, our primary reason for walking down this wonderful street was to get to the Roman Baths (Terme della Rotunda). We found it and then started the hunt for the entrance which was far from obvious and as is the case so often in Sicily was unsigned.
The building itself is somewhat buried and worse for WW2 bombing. Such a shame given it was one of the few buildings to have survived the 1693 earthquake. It has a fascinating story from its initial building early in the first century AD through to its being Roman Baths in the period in the third Century and a Byzantine Church and beyond. Perhaps its most interesting is its connection of the church to the art of magic.
From the Terme della Rotunda it was a short walk upto Piazza Dante for one of the true highlights of a visit to Catania – Chiesa San Nicola. It's sheer size 105 metre long , 71 wide at the transept and its dome 66 metres high make it imposing. Its interior is largely all white adding to its grandeur. There are a series of not so small chapels inside each with paintings and splendid altars. There is also the remnants of a huge pipe organ no longer in working order as it had pillaged over the years. More time would have allowed us to visit the gardens, monastery and libraries.
Piazza Dante is impressive although would be much more so without cars parked all over it!
From there, a walk down any of the streets finishes you back at Via Etna from which we stumbled on the Flea Market. It sells everything from "designer bags" to fresh eels! So many stalls and people making it one of the places where I found the Trentalia warning to "Beware of pickpokets" ringing through my head.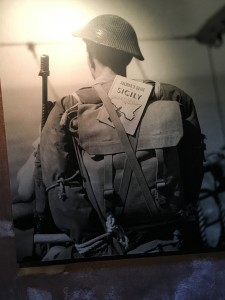 Our aim from the market was to head towards the bus station for the trip back to Siracusa. We walked along the Corso Italia taking in the architecture that included both baroque and fascist styles. We then headed to the coast which in typical Italian style is largely hidden by a fence and the railway line. Where else would a stunning sea view be hidden from view by a train line and its overhead wires?
After some searching, we eventually found the Cinema Museum and the purpose of our visit the Museo Storico Dello Sbarco in Sicilia 1943. Just as was with the Terme della Rotunda it wasn't easy to find but worth it when we did.. This is an interactive museum that took us through the streets of Sicily in 1943, a mock air raid and then to the story of the allied invasion and liberation of Sicily. Even with the limited English translation it was interesting, particularly as I'd seen the bunkers that the Italian forces had stationed themselves to defend the island as wellas the beach where the English forces had landed during a bike ride around Siracusa. The tribute to the fallen was simple and impressive.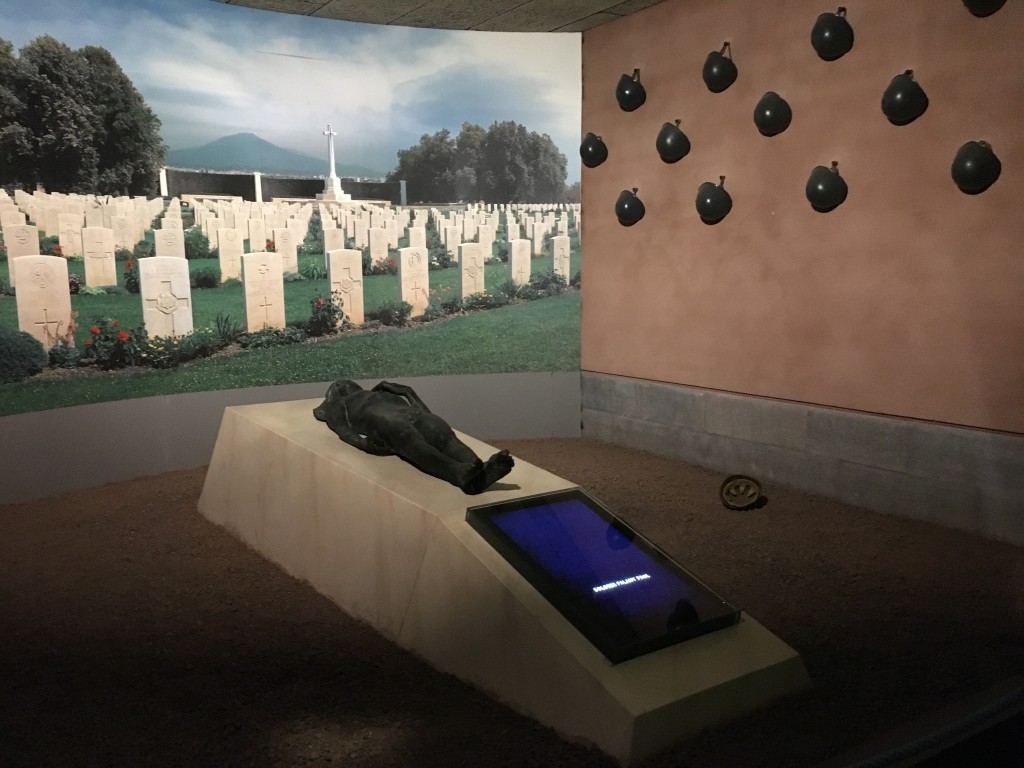 The museum was convenient to the bus station making its a logical endpoint for our walk.
This is a city that does not enjoy a great reputation but perhaps it's time for a rethink!
Travel Tip – House wine give it a go. It is often the owner's own bottling and while it may not be absolute premium it will usually be of very decent to good quality and will accompany your meal very adequately. Expect to pay between €2.50 and €5 for a half litre.