As we were leaving Edinburgh I started to think about my Top 5s
My Favourites
Edinburgh– all of it was fabulous. Architecture and soft colors even made my awful photography look good. We went to our daughter's favourite bar, The Dome and weren't disappointed. The Castle was all it is cracked up to be and the views from Arthur's Seat glorious.
The weather was fantastic with blue skies and warm days- isn't that how Scotland is for everyone?
Heising Restaurant, Berlin – a true experience. Don't know quite what I expected, but it wasn't devoted service from the husband and wife owners in a 1920s themed French restaurant. This is one not to be missed. Ranked number one on Trip Advisor in Berlin and I couldn't disagree.
The British Museum – my favourite attraction in London. This was our second visit and still we have barely scraped the surface. It's free and the best museum I have been to apart from the Smithsonian in Washington.
Changing the Guard not in London but Prague! A made up ceremony with made up uniforms! Such a laugh. Definitely one not to miss.
Hollmann Beletage, Vienna we stayed at some lovely hotels but this was my pick. Funky rooms, lovely garden to have an afternoon snack and quite stunning breakfasts. Kathy would disagree having Das Stue as her favourite. Both were Tablet Hotels and great choices.
Ok there are 6
Aperol Spritz – this quickly became our drink of choice. Cold and refreshing, the perfect drink on a hot afternoon of which there were many. Favourites were at Das Stue sitting in their outside bar overlooking Berlin Zoo and The Dome Edinburgh. This was a signature for our trip.
Traveling essentials
Companion – it's great seeing things for yourself but sharing them is the best part! Can't believe how lucky I am.
WiFi – hotel choices with free wifi and the numerous cafes with free wifi means keeping in touch is easy. We could download the papers, talk to our family using Viber or Whatsap them messages and photos without incurring ridiculous data charges. Even enabled us to watch highlights if the Tour de France, The Suns beat Collingwood and listen to The Crows thrilling win over Geelong.
Ipad – I remember as a child traveling to New Zealand when there was no inflight entertainment just the books/magazines I packed. In more recent rips overseas there were inflight movies as selected by the airline, my walkman and books/magazines, the inflight personal entertainment, my iPod and books/magazines. This time with my iPad unlimited music choice, books/magazines/newspapers, videos, and even FoxtelGo as well as inflight entertainment.
Spotify – just awesome. Endless music choice for any mood. Even the offline mode for the long plane rides. Definitely worth subscribing to the subscription service. I also used Pandora but it wasn't available in all locations. I discovered a new artist Ellie Goulding.
Trip Advisor and Tablet – travel websites are everywhere, but these two made our trip all the better. Accommodation recommendations form trusted sources take so much of the risk out. Tablet's hotel list provided a choice of interesting hotels and the concierge service answered our queries. Trip Advisor was a great cross check for our accommodation and restaurant recommendations. We also found the two and three day itineraries on the Trip Advisor website: a great way to plan our time. Not a dud between them.
Dogs of The City
We have a dog who lives in the city so I decided to capture some of the more interesting dogs we saw on our journey.
Flynn– Craig's Mum's Dog, Edinburgh – the clear choice. A retired guide dog.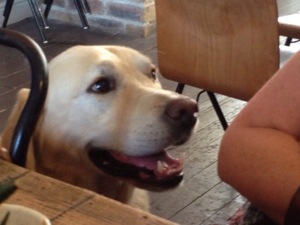 This one thought he owned the street – Berlin. We sat in a street bar in Berlin whilst this dog patrolled his patch.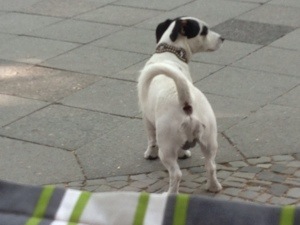 It could only be Paris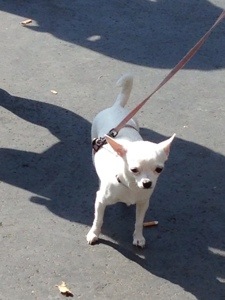 A dog with Panniers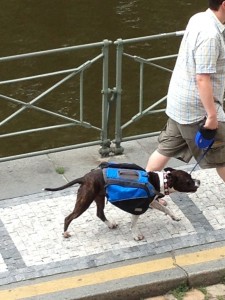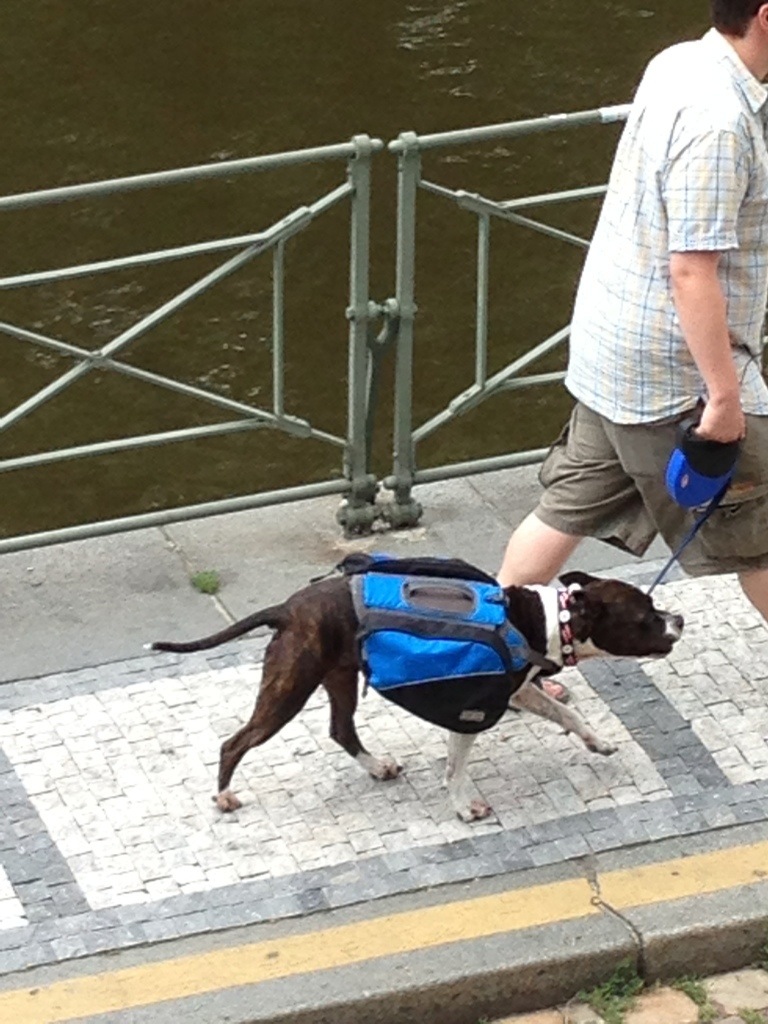 Best Meals
Heising Restaurant, Berlin – an experience. Served by Mr and Mrs Heising, with period decor and music we were treated to a fabulous meal. I think we will be talking about this meal for years to come.
Bar Centrale, Munich – Great Bar, fabulous atmosphere, good pasta and lots of laughs. So glad that Kathy found this one!
Princi, London – we had breakfasted here in 2011 when we were last in London and decided to do the same this time. It was just as good but now has a breakfast menu and dinner as well. Breakfast on both days and dinner were excellent. The pizzas were special.
Marina Grosetto Restaurante, Prague – this is a very touristy location. A massive restaurant on a boat moored on the banks of the river. The food is good but the views incredible: sunset over the Charles Bridge or the Castle. Take your pick and enjoy!
All the restaurants in Europe would be better if smoking was not allowed. At least in France smoking isn't allowed inside.
Just plain odd!
The Chalkboard in Prague – Before I die…
We found this quite by chance, on our way to The John Lennon Wall. Some of the comments were quite profound and deep.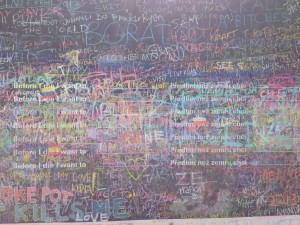 Girl has Boy – Private Eye greets the Royal Birth. With the rest of England and the Commonwealth focussed on the birth Private Eye's this was whilst quite predictable and a contrast to the media scrum at the hospital, Buckingham Palace,the Papers and the Telecom Tower.
Changing the Guard in Prague – a made up ceremony! Who needs to go to Buckingham Palace? We loved it.
Red Wine we stayed at a hotel in Dubai which was shortly to close for renovations. It was extremely comfortable and a great decision to break the journey to Europe. As we were tired we decided to eat in the hotel overlooking the Dubai Creek. Lovely at dusk. We thought we would have a look at the wine list to be told there was only one choice – Merlot! Brought back memories of the movie Sideways.
The annoyances
Luggage – arrived in Europe but our luggage didn't for a couple of days! It's everyone's fear when traveling however the upside is that it makes exiting the airport easy and confirms it is very wise to travel with a couple of days clothes and toiletries in carry-on.
Charles De Gaulle Airport, Paris – I have traveled through a lot of airports but Charles De Gualle has always provided the biggest challenge. Taking just on 2 hours from arriving to get onto the plane is ridiculous. There is almost no useful signage even in French and why with the airport brimmed full there would only be 3 Border Gates open defies belief!
Taxis in Prague – to be offered a 5 minute cab fare for €20 plus was annoying but apparently quite usual. We took the 15 minute walk to our hotel taking in the sights. For the return journey our fabulous hotel provided the transport free!
Smoking in Restaurants – no smoking in restaurants is something we take for granted in Australia and the UK. In Europe it was annoying to be eating a meal accompanied by smokers at the next table.
Train – Edinburgh to London – whilst we generally enjoyed our train travel, this trip was on an overcrowded train with poor air conditioning. Might give it a miss next time and fly!
Scammed in Dubai – getting scammed by the limo driver at Dubai Airport. I put it down to tiredness but even so very annoying?
So that's my Top 5s!
Tag for Daily Prompt – Memories of Holidays Past