We are privileged to have a beach house at idilyc Second Valley just 90kms from the centre of Adelaide. Its a stunning location with a gorgeous beach.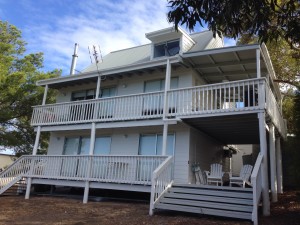 From our beach house balcony you can see the city. Infact when they used to play night games of AFL at AAMI Stadium you could see the lights, yet try and get anything to it from Adelaide and you would think you were in some remote location on the other side of the world.

Recently we tried to have a bench top delivered and the quote was roughly double the cost of having the same item delivered to Bejing!
There is a point to this…
On Friday I headed out to watch the 3rd stage of the Tour Down Under. A pleasant ride across to Myponga to see them "zing by". Makes for a very pleasant ride on a summer's day. I was standing by the side of the road when my favourite person rang to say that she had headed into Normanville about 15 kms from Second Valley to do some shopping and have a coffee however someons had backed into her parked car and the radiator was gushing! Accidents happen and the person who backed into her was very apologetic.
So what happened next was laughable. A number of calls to the insurance company to explain what happened and where the car was. Eventually a tow truck was organised and would be there in a couple of hours. The insurance company also confirmed that we could have a rental car. Then the discussion about getting a rental car!
No cars were available from the one place that had hire cars in Victor Harbour, which is about 40kms away. The good news was that the tow truck driver could drive my favourite person and our daughter to Victor Harbour where they could catch a cab to Adelaide Airport and collect a rental car. The airport is about 70kms from Victor Harbour. From there they could drive back to Second Valley, 90kms away! Round trip just over 200kms!
Hence the title of my post!
Still Second Valley is just a gorgeous place and definitely worth the hassle.