What a contrast between the Northern and Southern Hemisphere. The photo of the dog in the snow (from craftingandcupcakery.com) provides such a contrast to the weather in my hometown of Adelaide, South Australia.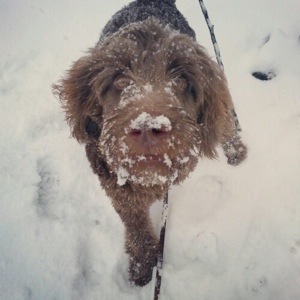 Adelaide is having one of its hottest ever spells. Temperatures in the 40s everyday so far this week and more to come. Our local newspaper is prone to hyperbole but today's headline was probably pretty reasonable. Yesterday was an absolute shocker – 45C plus, lightening in the hills, numerous bushfires (thankfully no one was hurt and no significant property damage) but – Oh My! Today was only 43C!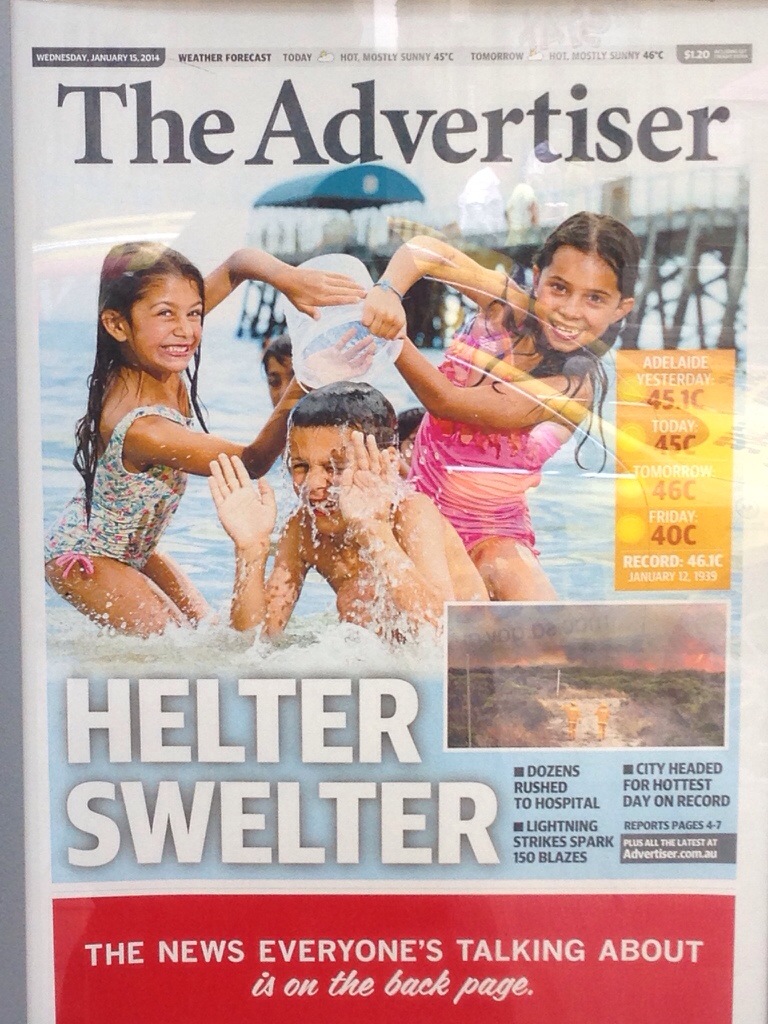 Having always lived in Adelaide, hot summers are something I am used too. As kids we didn't have air conditioning, just a fan and on really hot nights we slept outside on our back lawn. Our days were indispersed with visits to the beach.
Today, cars and houses are air conditioned making it all a bit more bearable, but still it's hot. The blast of heat as you walk outside all but sucks the air out of your lungs. I usually walk to and from work, as it's only a fifteen minute walk, but it's just too hot even at 7.30 in the morning. Judging by the traffic on the road I'm not the only one opting for the car over walking or public transport.
Just as with the Northern Hemisphere extreme weather means warnings. For us it's keep hydrated, and avoid extreme exercise. I can only confirm the weather message. Some years ago I rode the public stage of the Tour Down Under on a day when the temperature was about 44C. It was the hardest physical challenge I have ever experienced and took me weeks to recover. It's fortunate that the TDU is next week.
When it's this hot no one really goes out during the day. Our usually bustling Rundle Mall was deserted at lunchtime today as was our iconic Haighs Chocolates . It's not surprising that chocolate is not that popular in this weather, but what surprised me was a comment an acquaintance of mine from the brewing industry made, that people don't even drink beer when the weather is this hot!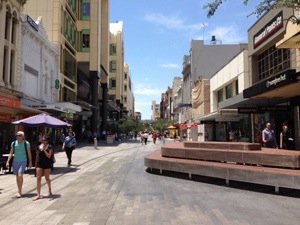 Our indoor malls were also quiet with Boost a smoothly bar the only business that was busy.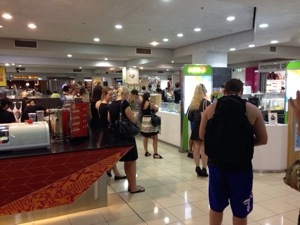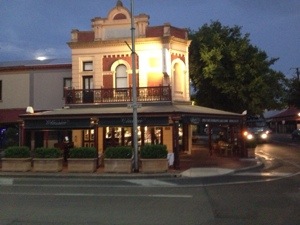 Even in the evening, as I take the dog for her evening walk, it's still hot: 37.8C or 100F at 9pm. No one is out and about, even Chianti which is always bustling on a summer's evening has no one sitting outside. It's just too hot, and as if to emphasize it's being too hot for a beer, I noticed the General Havelock Hotel on the opposite corner is quiet as well.
So that was my day in the heat of Adelaide now it's onto Thursday and a sizzling 46C!