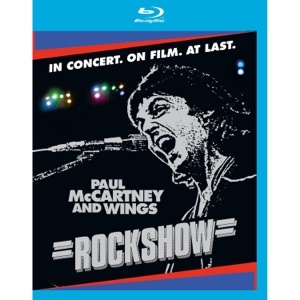 I have been on a walk down memory lane, sparked by my recent visit to the local music store, and purchase of Paul McCartney and Wings' Rockshow on Bluray. It bought the memories flooding back of the Adelaide leg of the Wings Over The World Tour just prior to my year 12 Exams in November1975.
The concert was at the now demolished Apollo Stadium, which was a basketball stadium that converted to a concert venue for about four thousand people. It was a great venue, no bad seats and everyone close to the stage.
As I wandered back to the office after making my purchase I had a chuckle about how I came by my ticket and the hysteria that the Paul McCartney visit had brought.
Tickets were nearly impossible to get
with lines stretching around the block from Allan's in Gawler Place even before the tickets went on sale. I was not able to line up for a ticket due to school, but was lucky enough to have a friend far less focussed on his schoolong than I, who for a small premium got me a ticket. It was a prized possession and caused some angst that the person concerned had bought me a ticket and not another of my friends. Anyway I had a ticket and that was what mattered.
The Wings Tour was momentous because it was the second visit by a Beatle to Australia and with it huge crowds to greet he and Linda everywhere they went. Press chased them, hanging out of car windows to get the elusive photo or a quick quote as the former Beatle sped past. No moment was more bizare than the amazing McCartney press conference where Norman Gunston all but stole the show. I found the the YouTube video; it's as funny now as it was in 1975.
It all added to the excitement.
Even the best part of forty years on I remember the atmosphere at Apollo Stadium that night. It was electric as the house lights went down, and then as the sounds of the opening song Venus and Mars built, the whole auditorium was lit not by the stage lighting but flashbulbs. Pure continuos white light which carried on through Jet and Rockshow.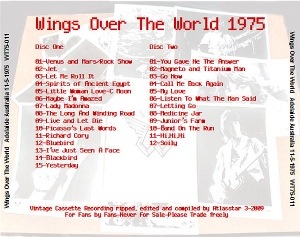 Amazingly as I searched the internet I found the setlist from that night. It is almost exactly the same as Rockshow and as I watched the video I was transported back to relive that November night in Adelaide.
Paul McCartney is the master and with Wings he was sublime; it is easy to see how much more he still had to give when The Beatles ended. It is accepted wisdom that he was keen to keep The Beatles touring long after they stopped. Wings provided that vehicle, a true rockband of which he was the clear leader, but still a band member – first amongst equals.
With Wings there was space for others allowing lead vocals from others. Denny Lane, formerly of the The Moody Blues sang Go Now and Jimmy MCulloch sang Picasso's Last Word and Richard Cory.
The reality for me along with most of the audience, was that it was all about McCartney. Whether leading his band singing Wings songs from the Venus and Mars (referred to in the Rockshow video as their latest LP) or hits Jet, Band on the Run, Live and Let Die or Maybe I'm Amazed, McCartney showed that he was still at the top of his game. For sheer joy though it was Yesterday, and as I sit and write this piece I still get shivers as I remember seeing McCartney sing it live, a Beatle singing his classic – it could not get better. For those not lucky enough to have seen it Rockshow captures it magnificently including the faces of the audience caught in the momentjust as I was. It was also a chance to see The Long and Winding Road as McCartney had intended with horns and Let it Be – just amazing.
Rockshow provided me an opportunity to relive that night.
Whilst I have been a sucker for McCartney live CDs and Videos, Rockshow stands head and shoulders above the rest. As the sleeve notes of the video identify it captures the brilliance of Wings a great band in their own right and a Beatle performing some of his own classics live.
Where Rockshow stands apart from Live in Red Square, Good Evening New York City,Tripping the Live Fantastic, and Back in the US as good as they are, is that they are of McCartney solo. Rockshow is about a band with a master leading it.
As I said at the outset, when I started this piece it was to reminisce however it has also turned out to be a review of a great concert video, made all the better by having been part of the audience, albeit on the other side of the world.
This is a must have for anyone who loved The Beatles, Paul McCartney, the 70s or just great concerts. .