Nhill is about 350 kms from Adelaide, just over the border into Victoria. It is a place we'd driven through many times, heading to Melbourne or other parts. If we'd stopped it had only been for a comfort stop and petrol.
Not this time. My favourite person and I had driven across to NE Victoria so I could collect data for my research.
This would be an out and back trip. The 800km plus trip each way meant we were looking for the quickest route so it would be straight through and when I say straight I mean it. The GPS barely comes to life on these types of trip. Often its silent for a couple of hours before piping in with taking the second exit of a roundabout in 270 kms – that means slow down but keep going straight.
As we drove we mused over driving holidays of days gone by as children with our parents, in our early years of marriage, just the two of us and then with children. Oh the country towns and dodgy motels! These trips had made us appreciate just how big Australia is, something lost when you are 30000 feet up flying between capital cities. Country Australia and the capital cities are different worlds these days, more is the pity.
The drive through the Adelaide Hills and then on through the south east of South Australia saw the countryside quickly change from the greenish brown tinge of late summer to the straw brown of the flat quintessential South Australian countryside.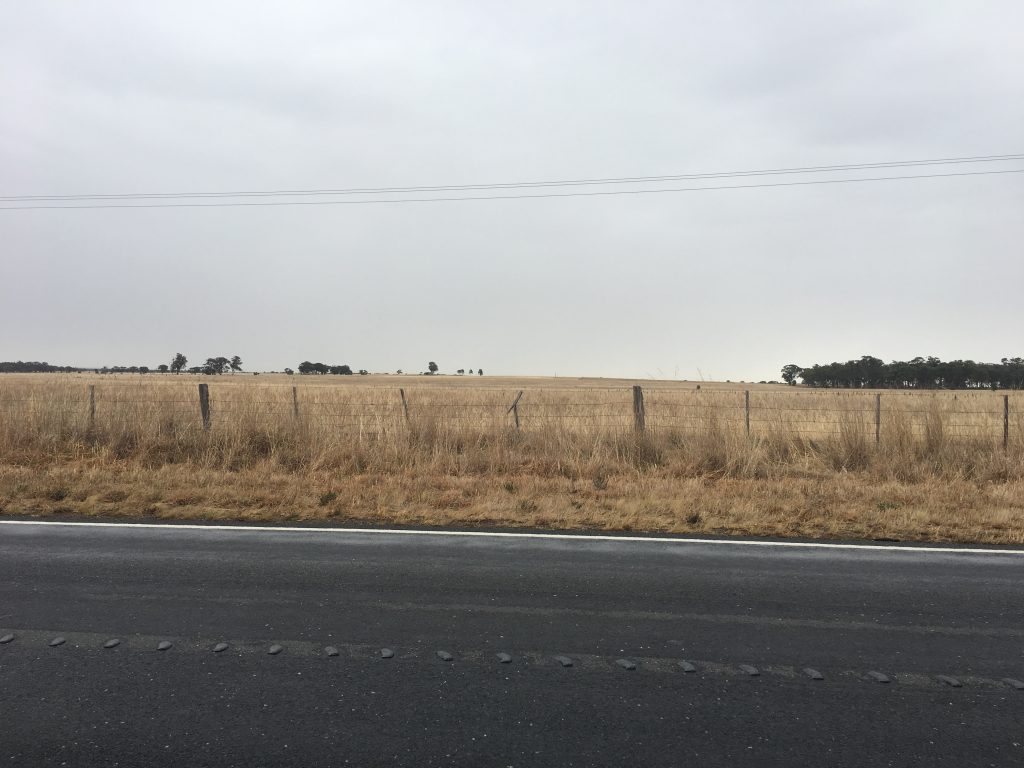 On the way over we'd stopped at Bendigo, a historic gold rush town. Stopping in Bendigo meant we'd only have a half day drive to meet my interviewees the next day. Bendigo is synonymous with the 1850s gold rush and has buildings that are reminiscent of a bygone and wealthy past. Today its home to about 100,000 people and is typical of a large country centre with all the mod cons. It's also home to a lovely local hotel, the Bridge, which we were lucky enough to strike on T-bone Tuesday! A large steak, fresh vegetables, salad and a glass of wine for under $20. A perfect way to break our journey on the way over.
The next morning it was a 3 hour drive onto the winery I was visiting. My interviewees were a delight providing me with much rich data, for my research. Our time there enabled us to take a tour of the winery and conduct my interviews enjoy a lovely ddinner with on e of the family member and then set off on the return journey.
On the way home, we decided that we'd break the journey in half and settled on Nhill, Victoria.
Trip Advisor didn't fill us with high expectations but this was a practical decision. A bit of research by my favourite person, identified a B&B – Wendy's Retreat that we were able to book through Airbnb.
After a long drive retracing the roads we'd covered on the way over, a stop in Bendigo for lunch, and a short break at Murtoa  we arrived in Nhill. We passed a nasty road accident, fortunatley no one was killed but it is a reminder that driving these roads at speed requires vigilance and care.
Nhill is in the Wimmera and is all about broadacre farming. The road is dotted with grain silos and is flat. On the way over it was warm on the way back it was drizzling with rain and humid.
Nhill is a country town that seems to be going through a bit of a rebirth. It has a population of just over 2000 people, about 10% of whom are Karan refugees who have settled into the town over the last few years. The influx of people and generally favourable farming conditions seem to have been the impetus for this rejuvenation.
Nhill's main street is wide with a couple of pubs a few stores a couple of coffee shops and a bakery.  The buildings are remnants of a bygone farming past, a little tired but the town has plenty of life.
In the centre of the plantation that divides the main street is the traditional war memorial
as well as the talking draft horse. I couldn't resist pressing the button and listening to the story of the draft horse.
My favourite person and I then wandered down the main street past a couple of coffee shops to Paw Po crafts. This is a the shop where handicrafts made by the local Karan community are available for purchase.
From there it was off to the Jaypex park, a contribution to the community by two local service organisations. The park is pretty standard but the walk through the swamp to the lake is a pleasant stroll; one I could imagine locals do all the time.
Nhill is also famous for its pinball museum! While we didn't have time to visit this time, I gather it is worth a visit, just to see the coloured lights and hear the noises of these machines. We were sorry we weren't there on a Friday night for the Friday Fiestas that run throughout February – they sounded like fun.
I'd never seen Nhill in this light before. Thanks to our Airbnb host, Wendy's Retreat , we saw Nhill in a different light. It's a long way from home but will now definitely be a place to stop and spend an hour or two or night as we travel this vast country.
The drive home was just long and straight with the GPS telling us we had only one turn to make before reaching home in just over 350kms.
We stopped in Coonalpyn on the way home for coffee and to look at the silo mural. They are a feature on many of these buildings throughout the region. It was about 40C and windy, pretty typical of a late Summer's day so we didn't stop for long.
This trip was another vindication of my desire to pick a research topic that would enable my favourite perosn and I to travel. This visit may not have had the romance of Verona, or the opulance of the Napa and Sonoma Valleys but was just as interesting and captivating as our visits to these far off places.