A few months ago I posed the rhetorical question "Have I really bought my last cd?".
For the best part of six moths I happily went along listening to Spotify and Pandora as a paid subscriber. I discovered new music and old favourites. Amazingly convenient and almost no song not available. Rented music seemed the answer to my almost insatiable love of music.
Then a few weeks ago I had a change of heart sparked by a chance listening to a radio program with The Beatles biographer, Mark Lewisohn which sparked a desire to listen to The Beatles from start to finish and I wanted to own them, not rent them.
So it was back to the CD Shop and a resumption of a long term passion of purchasing music again. It was like running into an old friend. Seeing what was new, browsing the CD racks for something interesting and then the bargain bins with each visit usually resulting in a purchase. The result is that since purchasing The Beatles Boxed Set I have bought a few more CDs and it's been fun. I doubt I will buy as many CDs as I did in the past, but I know for sure that my love for owning my music burns deep. Renting is convenient but just not the same.
The same chance listening to the radio
also rekindled my interest in buying books, so I went and bought The Beatles biography, a massive 1000 page hard cover book. For the first couple of hours it seemed like fun to have a book again, but I quickly discovered that the book was cumbersome as compared to what I had become used to with my iPad. Rather than having to manage a bulky hardback with close small print the Kindle App enables me to set the print size to something convenient to me, so I purchased the Kindle version as well.
That said, I love the idea of owning books and looking at them Our city apartment didn't feel anymore than serviced apartment until we put in our library.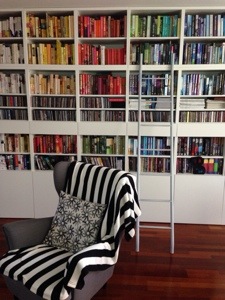 It was a transformational moment in the move to city living. Just looking at the books was pleasurable, something for all its convenience that my iPad doesn't offer.
Certainly the sheer joy of walking into Shakespeare & Co in Paris with its books piled in every nook and cranny has been a highlight of our visits to Paris. I doubt there will be books and stories written with the same affection about the Kindle App as there has been about The Shakespeare and Co Bookshop. Even so, on my last visit it was wonderful to browse but I didn't feel the same urge to buy a book as I had on previous visits.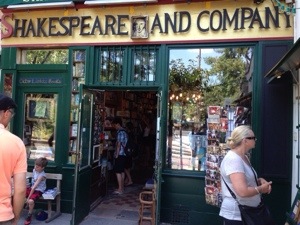 So what to make of all of this? The CD will most likely become a memory as vinyl has become and I suspect the same for books. Will we be better for all of this? I am not sure but for all that there is something pretty special about seeing books in a bookshelf and playing a CD.