Does Slow Travel require a car? The notion of Slow Travel by its very nature suggests not being in a hurry and being in control. A car gives you flexibility and allows control as to where you'll go so it would seem a car goes hand-in-hand with Slow Travel.
So why wouldn't you drive?
For some of us the challenge is that we drive on the left hand side of the road meaning that to drive in Europe, USA and many other destinations you need to unlearn everything you have been taught.
For all of us there is the challenge of reading signs in a foreign language and learning new road rules, or quickly becoming aware that road rules make little difference to the way the locals drive.
My driving exploits in foreign locations have been the source of many laughs. My four attempts to see the sign to the airport as I zipped around the roundabout on the outskirts of Palermo are regularly brought out by favourite person and daughter when we discuss driving in Europe.
On the subject of driving in Sicily, Sicilians are wonderful and care fee and they drive like it. We have been 3 wide on a corner to turn left onto a highway, been passed by Vespers in the middle of the night driving through unlit tunnels, and snaked our way upto Taormina in darkness resulting in me nearly driven onto the Corso by mistake! I have driven where I shouldn't have in Enna and found myself at the bottom of a hill with only locals to guide me out – all with smiles on their faces. I have shredded a tyre when I hit a 1 foot high solid rock curb in a street barely one car wide. All of this while the stuff of legend once back home could have been avoided by catching a bus or train.
Even where the cars are driving on the side of the road that you are used to, language, road rules and sheer volume of traffic can  make for a less than relaxing trip. I could not imagine driving through Colombo, Sri Lanka. It is scary enough being in the passenger seat!
All this brings me back to the question – can you get by without a car when slow traveling?
I think you can but it requires planning and compromise.
Planning because you need to plan an itinerary that is connected by public transport and compromise. Not everything is, and buses and trains have a schedule making compromise necessary.
Here are some thoughts based on our experiences.
As we prepared for Sri Lanka we read up about organised tours or hiring a driver. We opted for a driver to give us more flexibility.   Wage levels are so much lower than ours, so a driver for the day is very affordable even after a healthy tip.  Taking this option was so much more relaxing. I would never have been game to pass on the wrong side of the road into oncoming traffic and doubt I would have ever understood what the different beeps of the horn meant.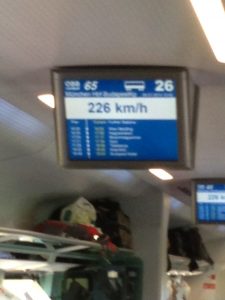 Europe's train network makes getting from city to city fairly straightforward. In the past we have generally been able to navigate from major pout to major point.  However a  lesson learned on Bastille Weekend in 2008 was to make sure you allow enough time to get to the train station. We missed our train from Bordeux to Paris on the Saturday which led to our missing a connection in Paris for a train to the Amalfi Coast. Our connections although tight all looked feasible in the travel agent's office in Adelaide, but as we soon appreciated on the Saturday of Bastille weekend, was ambitious at best. The result was a lovely weekend in a Paris for Bastille Day, but not the trip to the Amalfi Coast and Pompeii as we'd already planned and paid for. With it came the need to book airfares to get us back on track for the rest of our trip and with no insurance compensation available for lost bookings, as it was deemed our fault, it was not an inexpensive exercise. What did we learn from this – plan and allow plenty of time. Time is a commodity that Slow Travel affords.
It was a lesson well learned. Ever since we have made sure we have plenty of time. On some occasions we have visited train stations the day before to make sure we know where to go and what to do. At the very least we have made sure that we are there in plenty of time.
While the major routes have modern fast trains, local trains are often a very different experience. The circumvesuviana that takes you from Naples to the Amalfi Coast is certainly ramshackle. On our first journey the train stopped in a station and everyone got off, except us! We wondered what was happening as there were no announcements. Eventually someone gestured to us that this was where this train stopped. We got off and waited for the next train and followed everyone back onto the next train hoping it would take us where we wanted to go. A  couple of days later as we took the train back from Pompeii, the train stopped again. This time it was broken. Off we got and waited for the next one. Driving might have been more convenient but it was an experience. This is the locals train, taking you through the outer suburbs of Naples past Heracleum and Pompeii. Its fun to watch the kids try and get past the train security guards to avoid paying. Once on the Amalfi Coast,  a car whilst more convenient means navigating narrow roads. The SITA bus will take you to the major towns or again hiring a driver is possible. However, drivers in Italy are much more expensive than in Sri Lanka!
We also found that many restaurants or hotels are happy to pick you up at your hotel and take you to their restaurant and drive you back later in the evening. We found this particularly helpful in Sorrento. We made some great friends and have shared dinners with fellow travellers that wouldn't have been happened if we'd driven ourselves.
We have bused through Tuscany. The bus system is pretty reliable. We have trained to Venice and nearby.
We trained from Milan to Como and bused to our hotel. Even in the lowest of low season this was quite straightforward. Sure there are less ferries and buses but we easily filled in 4 days on Lake Como without a car.
For our extended stay in Sicily we decided we would try to get by without a car.
On our 2 previous trips we had driven. While it gave us greater flexibility, I am not sure that the stress was worth it.
For just on 2 months we were able to see all we wanted without a car. We trained to Noto and bused back. We trained to Modica and bused to Ragusa and then caught the bus back. We trained and bused to Catania. Bused to Taormina and caught the train back from Taormina's beautiful train station. We also had a day trip to Piazza Armerina using the train and bus. Once in Pizza Armerina we did hire a car to take us to Villa Romana. We bused from Sirucusa to Palermo. All are possible and much less stressful. We met lovely people and shared many laughs.
Slow travel means your are not in a hurry. It's important to remember this while waiting for a bus to come an hour after what you thought was the scheduled time as sometimes bus timetables are at best just a guide or when you struggle to find the ticket office as we did in Modica or get completely lost trying to navigate your way  to the bus-stop on the outskirts of Ragusa. We would never have found the bus stop without a very kind local.
So if you have the time I recommend giving someone else the keys and taking it all in as a passenger.