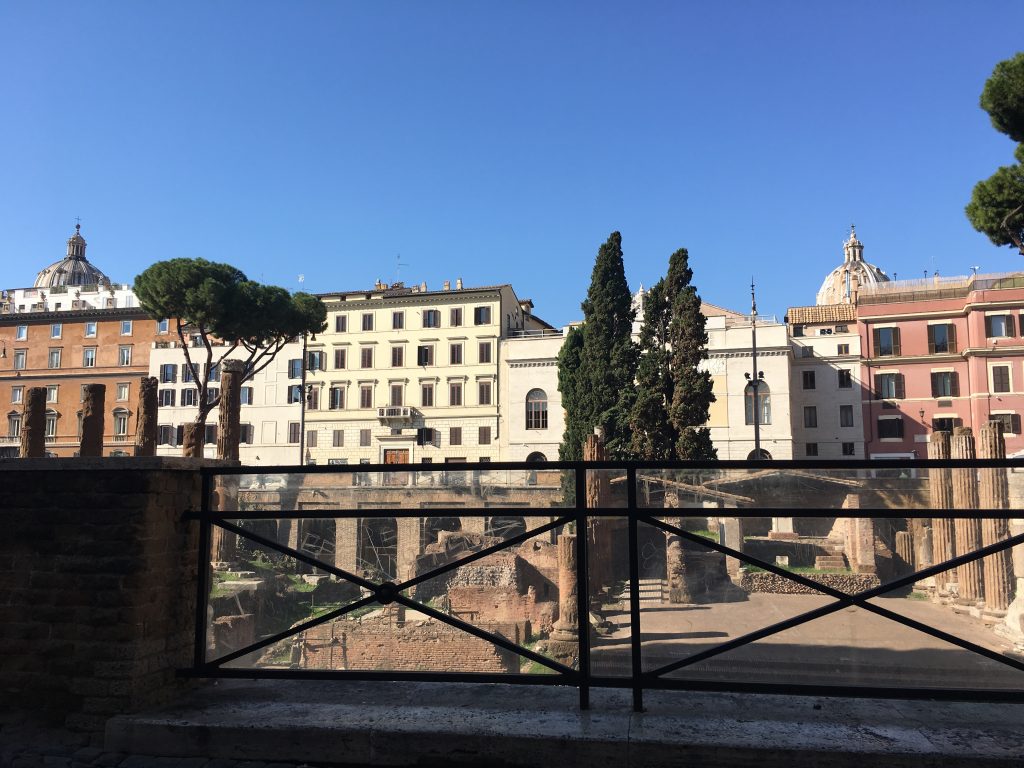 As generally happens over an extended holiday, some days are better than others and I would have to say the latter few days in the UK and Ireland were not the best of our trip. Pouring rain to greet and farewell us in The Lake District, high winds in Wales, a cancelled ferry and then no cabs at the ferry terminal in Dublin when we eventually arrived had made for a less than ideal few days, but that was all about to change!
As we flew along the Italian Coast, I felt an uplift in spirit and a regret that we had not scheduled more time in Rome before going home, but getting bathroom renovations completed before Christmas and my PhD meant we needed to be home.
With only a couple of days in Rome, all we could do was enjoy a coffee or two, some gelato, pasta an Aperol Spritz (perhaps more than one) and the chaos that is Rome. Just wonderful.
The weather was bright for our arrival. Flying into Rome the country side was so different to what we'd seen in the previous  6 weeks. The patchwork quilt of green replaced by the grey browns of a countryside that has experienced a Mediterranean Summer and a bright blue big sky.
Once on the ground we were through immigration in no time and then after a short wait for our luggage we were out of the terminal and in a taxi for an early Friday evening cab ride to our accommodation near Piazza Navona.
Check in at our hotel was straightforward. As we were arriving in the early evening the hotel suggested a couple of possible places for dinner and made a booking for 9pm at a local pizzeria (Emma)  In the balmy evening we couldn't resist a walk through Piazza Navona and a stop for an Aperol Spritz. It's a chance to see what the local traders have as gimmicks to sell the tourists. On this visit it seems it's not only flying spinners that glow in the dark but also "knock off" scarves. The selfie stick seems to be passé.
As we sit down for our drink, a young couple are having a romantic evening out, a young family is watching their toddler gaze up into the air at other young children projecting their glowing spinner into the air, an American couple is engaged in a discussion about their next day's travel and we engage in conversation with an English expat caught up in a bureaucratic tangle over a traffic infringement, that is apparently going to see his car impounded. The conversation is entertaining and then it's time to negotiate our way to dinner at what is clearly a locals favourite. We're glad our hotel has booked as there are plenty of people waiting to get in as we sit down. its great pizza and its nice to have a choice of wine by the glass, rather than just the "house wine" as we'd become accustomed in the UK.  A walk back to our hotel enables us to have a gelato and enjoy the warm evening.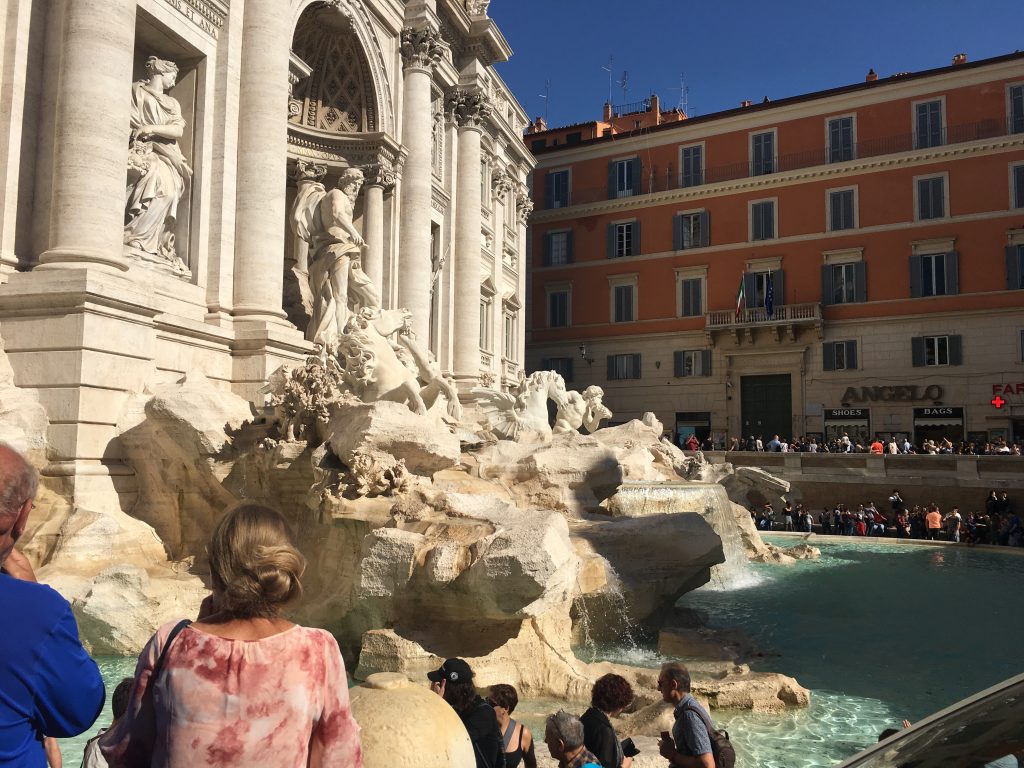 With only one full day in Rome we impose a no church or museum ruleand just a walk to our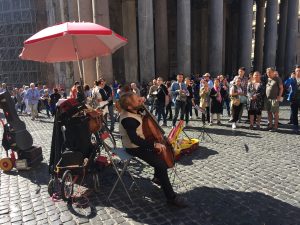 favourites.
The Fontana d' Trevi and Pantheon are musts, they have been part of pretty much every day we have  ever spent in Rome. For me the Trevi fountain and for my favourite perso.n, The Pantheon. It's a beautiful warm Saturday so both are absolutely jammed full of tourists, and the usual traders with their scarves for sale. There is a wonderful busker playing his cello. We join the crowd listening and after dropping a few euro in his tip jar and then meander along the narrow streets, buying the last of our gifts for family and then to The Spanish Steps by which time it's time for lunch. We decide on a bar we've visited many times before in a street running parallel to Via Condotti. Its busy but we are happy to sit at the bar as we have done on previous visits, it feels like our local. Afer a Spritz and some antipasto we head off into the warm afternoon, quite a change to the weather we've experienced in recent weeks but a good wat to prepare for our return to Spring in Australia.
We wander down Via Condotti, one of Rome's up market shopping streets and make our way to Cos. Yes, Cos, a women's clothing store, it is to be visited in each city. We make a quick visit to Cafe Greco, Rome's oldest cafe, opening in 1760. We've learnt to stand at the bar here for our coffee as the price is exorbitant to sit. They have good coffee even though it is now very much a tourist spot. Our favourite coffee spot in Rome is Sant' Eustachio where we'd made a quick stop earlier in the day.
With our favourite's ticked off, we decide that we will head back to the hotel for a relax before dinner. Our hotel has Sky so I can watch my "local" Italian team Palermo, now in Serie B, do what they seem to do best – lose! I flick over to what seems like an impending upset as Huddersfield led Manchester United 2-0. The upset is confirmed as Huddersfield hang on care of a last minute desperate save and win 2-1. Huddersfield are a bit of an Australian favourite, as our best player Aaron Mooy plays for them and scored a lovely goal to boot. I could only wonder if Manchester United would suffer the same hysterical post match commentary that Arsenal had the previous week in their loss to Watford.
Aperitivo  is part of Italian life and so we decide on partaking in Piazza Navona. Sure it's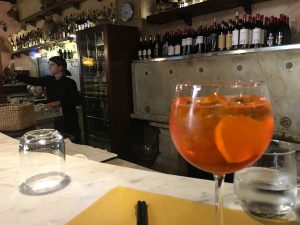 touristy but we are tourists. The piazza is busy but nothing like it had been the previous night. Its pleasant people watching and listening to the local musicians play.
A short walk takes us to local trattoria for dinner and that's it we're done. It's only a sleep a trip to the airport and we're on our way home.
I have learnt much while I've been away and one of them is that it really is not possible to spend enough time Italy. I'm so glad my favourite person was keen to break our journey home with a stopover in Rome.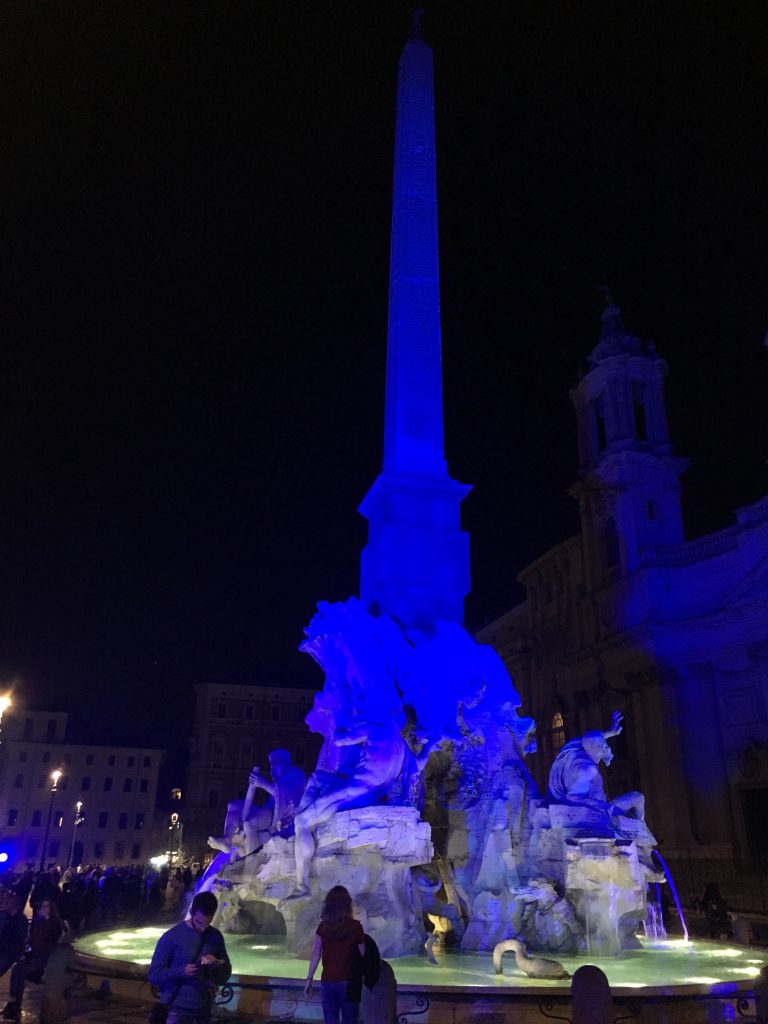 Reposted in Daily Post – Finally