The Diary of a Slow Traveller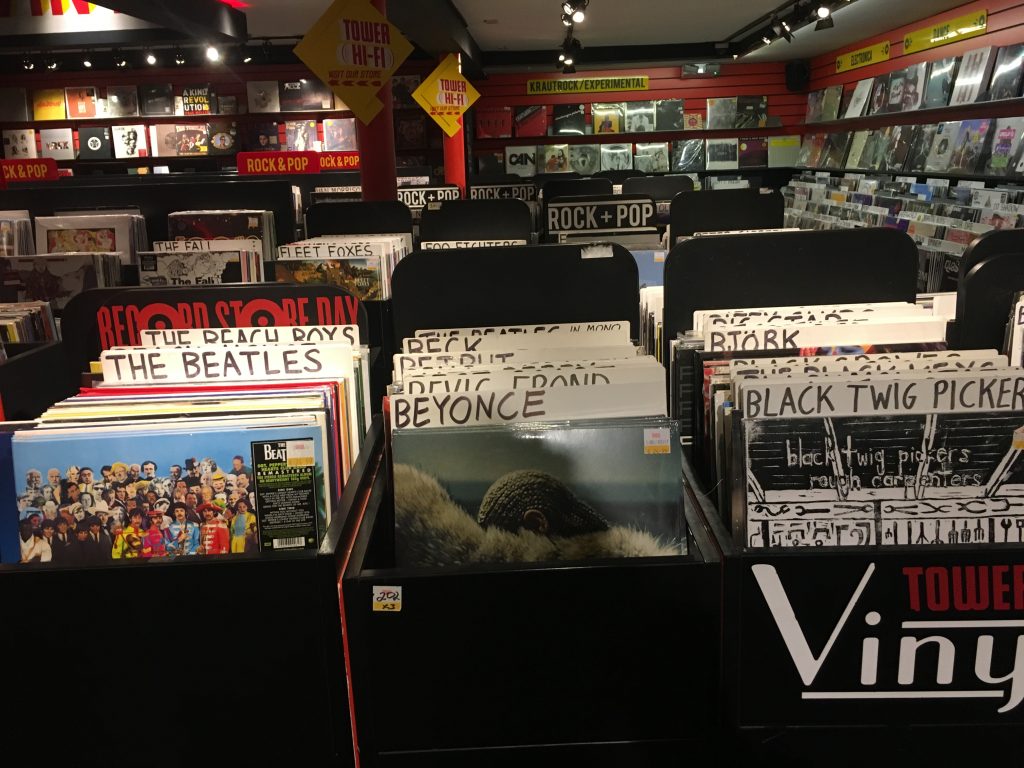 I have fond memories of spending a delightful afternoon thumbing through CDs at one of the Tower Record stores in San Fransisco back in the 90s while my jet lagged family were asleep. I'd also spent time in the HMV store in Singapore and London, thumbing through the racks of CDs.
I particularly remember the Singapore store as I'd spent a whole afternoon there in preference to seeing Singapore's sights. When I caught up with my colleagues they were somewhat bemused by how I'd spent my afternoon. But in 2017 these were all distant memories.
So what has this got to do with our trip to the UK. Well, it has been one of my laments that the joy of thumbing through racks of CDs is a thing of the past,  so it was with absolute joy that I spent a delightful hour at Tower Records in Dublin.
We'd booked a tour in The Little Museum of Dublin  for early afternoon, as the morning tours were booked out and so we thought we'd visit Trinity College to see the Book of Kells in the interim. When we arrived to purchase our tickets for The Book of Kells we found that it was on timed entry and that our slot was just before our scheduled Little Museum of Dublin tour. As a result we had an hour or so to kill.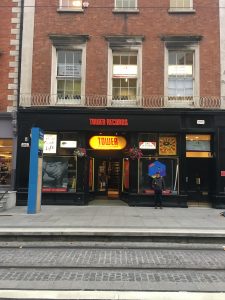 As we'd walked to Trinity College to purchase our tickets, I'd seen the Tower Records store which was conveniently located directly opposite a large bookstore where my favourite person would be happy to browse. I left her there and headed straight across the road to Tower Records.
I suspect as I walked in, my eyes were the size of saucers. It's enormous and not only did it have racks of CDs to thumb through but racks and racks of Vinyl. My morning was made as I browsed new releases and then walked upstairs where there was even more Vinyl. It was like stepping back in time and I was loving it. Thumbing through racks of CDs is fun, but thumbing through vinyl takes this to a new level. Vinyl album covers with their sleeve notes are a joy that CDs were never able to emulate and something that streaming services don't even attempt.
Like the kid in the Lolly Shop I couldn't decide where to look. New releases, such as, Lana Del Ray's latest or favourites? I saw the 50th anniversary edition of Sgt Pepper, Springsteen's Born to Run, an album I'd played the grooves off and replaced back in the 70s. There was Van Morrison's latest, Tori Amos, The Beatles, The Beach Boys,  and so many more. Oh my – this place is heaven for music lovers!
We have small sections of vinyl in our local music stores and only only a small range of CDs these days. Whereas I used to spend my lunchtimes hunting for new releases or something I to add to a collection, these days it's hardly worth the trouble and probably explains why today I pretty much limit my listening to streaming with the occasional CD or LP.  However in Tower Records Dublin, the store is just brimming with CDs and Vinyl. I found myself thumbing through the racks, all bringing back glorious memories of items past. It was almost enough to make me want to live there.
Perhaps 45 minutes after I'd left my favourite person my phone rang. It was my favourite person reminding me that we were due at Trinity College to see The Book of Kells. With that my visit to this wonderful place was over.
Oh, how I wish we had one of these in Adelaide or even Australia!
Thanks Tower Records, this was an unexpected highlight of our trip.