We'd heard so many stories about carjacking and having the contents of your car stolen that in our two previous visits to Sicily the nearest we'd got to Catania was the airport. However my interest lifted after reading Shamus Sillar's "Sicily it's not Quite Tuscany" a couple of years ago. In addition, our eldest daughter had made it clear that she wanted to visit Mt Etna in the short time she was with us in Sicily and its much easier to get there from Catania.
Catania is about an hour by train from Siracusa, assuming the train runs on time, which of course ours didn't! Regional trains not running on time is apparently the norm in Sicily, so rather than getting frustrated, just relax and enjoy the view, unless you are stationary in a tunnel for 10 minutes as we were!
Whether it's Trip Advisor, the guide books or just general commentary, Catania does not get great press.
Catania like a number of towns in Sicily was destroyed by the Etna eruption of the late 17th Century and rebuilt in an imposing baroque style. Unlike Noto it's not a rich cream sandstone but much darker, with its buildings being made of darker volcanic stone. A visit on a wet day gives it a closed in feeling even when walking down a wide boulevard of which there are many. It's very Gotham City! I'm sure this adds to why Catania doesn't enjoy a great reputation as a place to go.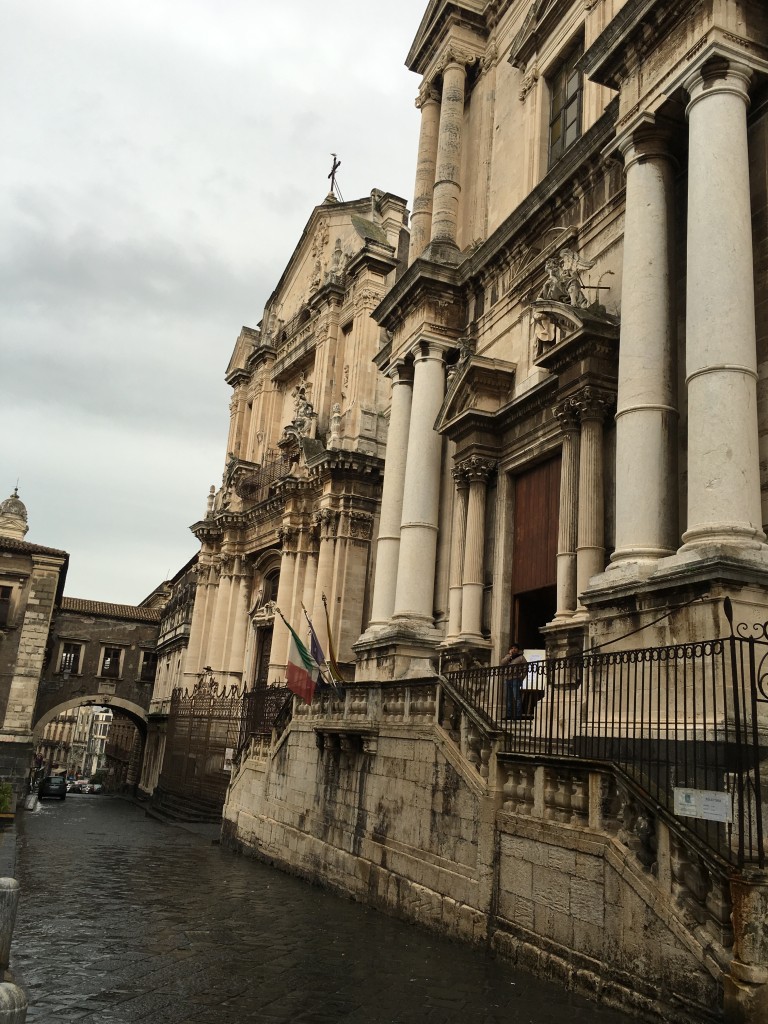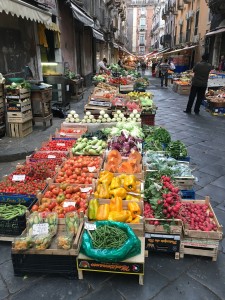 Once settled into our apartment and assured by our Airbnb host that we would not be murdered, we ventured out. An early wrong turn from our apartment meant our walk to the Duomo took us through the produce market a busy chaotic and very special place. Markets very much embody the vibrancy of the city and Catania's is no different. Depending on where you enter form, you are either hit with the smell of fish or the sight of fruit and vegetables. Our wrong turn meant we entered through the fish market. Vendor after vendor with swordfish, tuna, octopus, mussels and eels. We were told that locals often fish for eels at night by lifting the metal drain lids and dropping a line into the underground river that runs through Catania – I not sure if we weren't being spun a line on this one! Even so the fish market was a spectacular sight.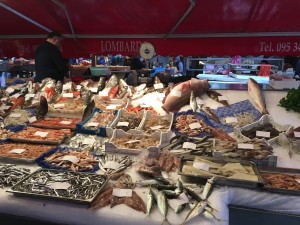 From there it's just a few steps to Piazza Duomo and the Fontana dell' Elefante – the elephant with an obelisk on its back. The Lonely Planet guide tells that the elephant, carved out of lava dates from Roman times and that the obelisk belonged to Eliodorus, an 8th century magician, who legend has it turned people into animals for a living! It's worth having a coffee at one of the cafes overlooking the Piazza Duomo, perhaps Prestipino, so you can take in the Duomo, Fontana dell' Elefante and the Amenano Fountain.
The Cattedrale di Sant'Agata is also nearby. Through reading Shamus Sillar's book I'd also become very interested in her story. The Wikipedia entry for Sant' Agata is a quick way to get acquainted with her story, although the even shorter story is that she was tortured and martyred in the mid third century after shunning a local's advances and devoting herself to God. She is the Patron Saint of Catania and is said to have visited Santa Lucia whose celebration we had witnessed on the 13th December . I'm a real sucker for the story of these two Saints!
Catania is a University town. It seems like there is a university building on every corner there isn't a church.
Via Etna is aptly named as Mt Etna is on full view on a cloud free day (we had to take their word for it) is a wide shopping boulevard.
The streets are dark because of the stone. The buildings are in varying states of disrepair, but this is Italy and Sicily in particular. There is graffiti everywhere but we walked the streets feeling quite comfortable and not at no greater risk than any other city. We were mindful of advice given everywhere about pickpockets and the specific advice about keeping our bags close.
The principal purpose of our visit to Catania was to allow us to get to Mt Etna. We were lucky picking a blue sky day. We were almost blown away as we walked on the mountain but the views were spectacular. We were so lucky as the next day the mountain was completely closed in by cloud.
So after our two days in Catania I couldn't help but think that Catania is hard done by in the travel guides and forums.
Travel Tip – if you want to eat horse this is apparently the place. Restaurants advertise it prominently. We weren't interested!