Sitting with a friend over a coffee discussing our recent trip to Italy I started to discuss how we got there
Sure the centre piece of our trip was spending three months in Italy but we had a strategy for getting there. We weren't going to be hurried. We'd take our time. Fly only during the day and not any long haul.
This meant a stopover in Singapore. We were spoilt for choice for accommodation that fits any budget. We are fans of Tablet  a boutique hotel website. We found a nice little hotel reasonably priced and a short walk from the MRT that linked directly to the airport. For my favourite person there was a relaxing bath for me a gym.  It also provided us the opportunity for a relaxing evening, nice meal and a sleep in a comfortable bed something that being in a hurry to get there doesn't allow.
After a relaxing sleep it was an early trip to the airport on the MRT and check-in, where we were surprised to have been given an upgrade for the short flight to Colombo. Silver service and more leg room!
When you are not in a hurry, why not enjoy the journey. This is what Slow travel means.  For us this meant a further stopover on the way to Italy. This time in Colombo. Never on our list of places to go, Sri Lanka was an unexpected highlight.
Arriving mid afternoon after a short and pleasant flight closer to the front than we usually sit, we arrived in Colombo airport. A bustling vibrant airport that is the only place I've been too where you can buy white goods, fridges, washing machines etc before collecting your luggage.
The taxi to the hotel through the streets opened our eyes to what this city was all about. Slums, street traders, expensive housing, new and old buildings –  it has it all. There were cars everywhere – this is another place to add to the list of don't drive in.
We used Tablet again for our hotel choice. Another really well priced modern boutique hotel with truly welcoming staff. We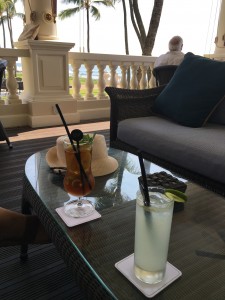 had wanted to stay at the Gall Face Hotel but our budget didn't allow for it. However we did go there for a drink and a walk through the grounds and along the foreshore.  The Galle Face Hotel is an oasis, a haven from a very busy and noisy city. While accommodation is pretty expensive at the Galle Face Hotel, drinks are very reasonable and with the incredibly cheap prices for a tuk tuk to and from our hotel it was a delight.
We had our hearts set on seeing elephants while we were in Sri Lanka and so our hotel organised a driver to take us to an elephant orphanage a short distance, but about three hours by car away. The traffic was incredible. No road rules and cars everywhere but we did get to see the elephants and they were incredible.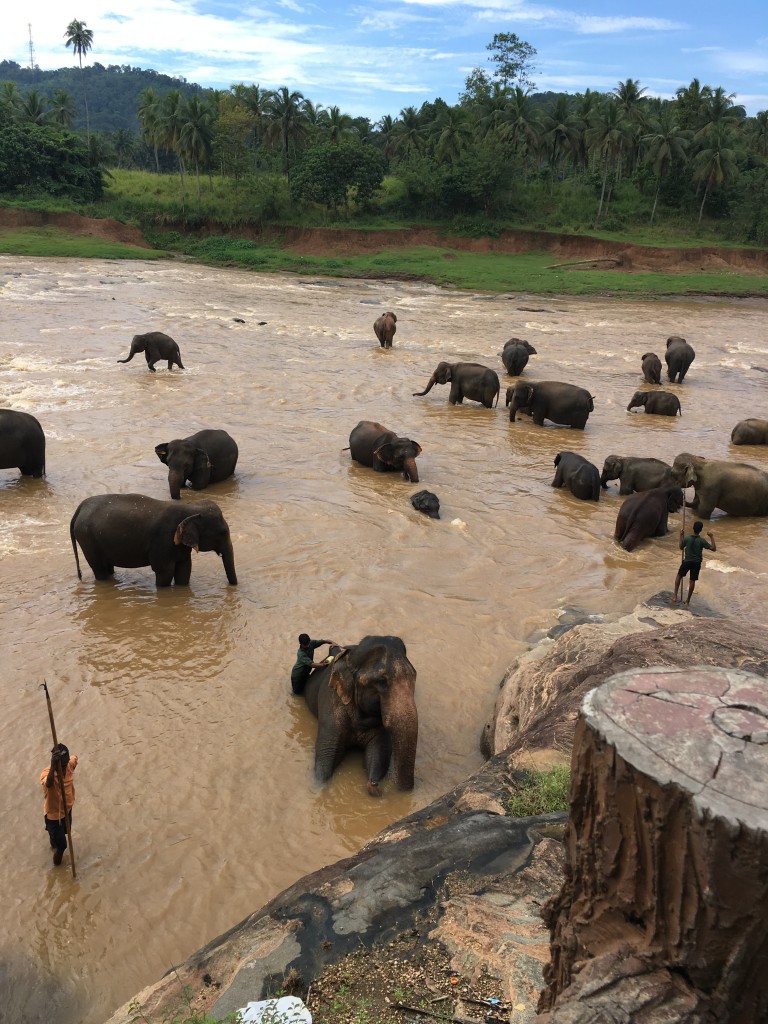 Walking back to the car, our driver invited us to try a fresh coconut. Street vendors sell them everywhere, so for about $1 we had two one for us and the other for our very friendly driver. Think about how much coconut milk costs at the supermarket and we had two for  $1.
The elephants were truly a highlight not just of our short stop in Sri Lanka but of our whole time away.
That was enough for one day and with the truly incredible volume of traffic a drive around Kandy and a short visit to the tea museum was all we could fit in  a 14 hour day.
Our next day was a trip to Galle a town about 100 kms from Colombo. We traveled along the coast on the way rather than taking the expressway.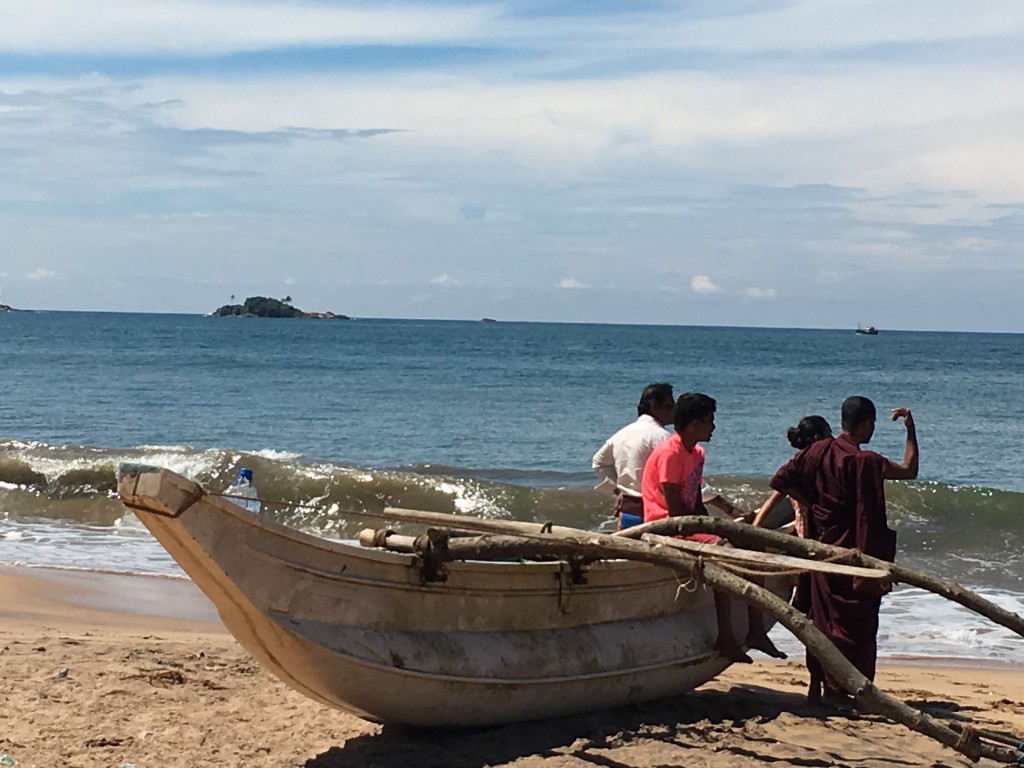 The drive along the windy coast road was delightful. The beaches are incredible. White sand rolling surf with the only interruption to the view being the fisherman bringing in their daily catch. It was idyllic.
Galle is truly magnificent. We were aware it had been devastated by the Tsunami.  The memorials  are poignant reminders that the sea is something definitely not to be taken for granted.
While Galle's fort region and beaches are truly stunning, being a sporting tragic the opportunity to sit on the old fort walls and look down at Galle's famous cricket oval was something that I could only have dreamt of. How lucky were we to visit and see a game being played on this truly lovely cricket ground. While we are privileged to live just a stone's throw from the world acclaimed Adelaide Oval, I would have to say that Galle's ground eclipses it.
After our stopover in Colombo it was a day of travel to Milan. A short stop made better by access to the Emirates First Lounge, one of the benefits of years of work travel. We were such frauds, drinking our French Champagne and flying economy!