A few weeks ago we were walking to our favourite coffee shop and noticed in a courtyard of one of the apartment blocks crates with wheels and veggies growing in them. They looked really cool and we thought we might do the same in the courtyard of our apartment block.
After a bit of research we found The Little Veggie Co Website. They had a useful blog and lots of books, but couldn't get the crates delivered to us before Christmas. We were however able to source crates from elsewhere as well as the requisite supplies. All were delivered before Christmas and made a great present from the family.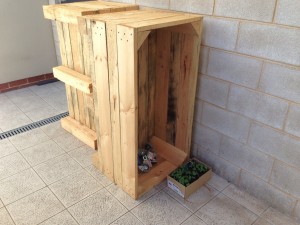 With the Boxing Day Test Match, Australia v India, in full swing and the radio on (what can be better than listening to the cricket on the radio?), I set about filling my crates with sugar cane straw,compost/soil, pea straw, slow release fertilizer and worm castings. This apparently makes a bed which does not require any form of digging.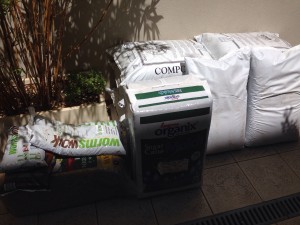 Having filled the boxes it's time to let it all settle for a few days and decide what to plant. Maybe some Basil, Spring Onions, Radishes and Lettuce to get it started.