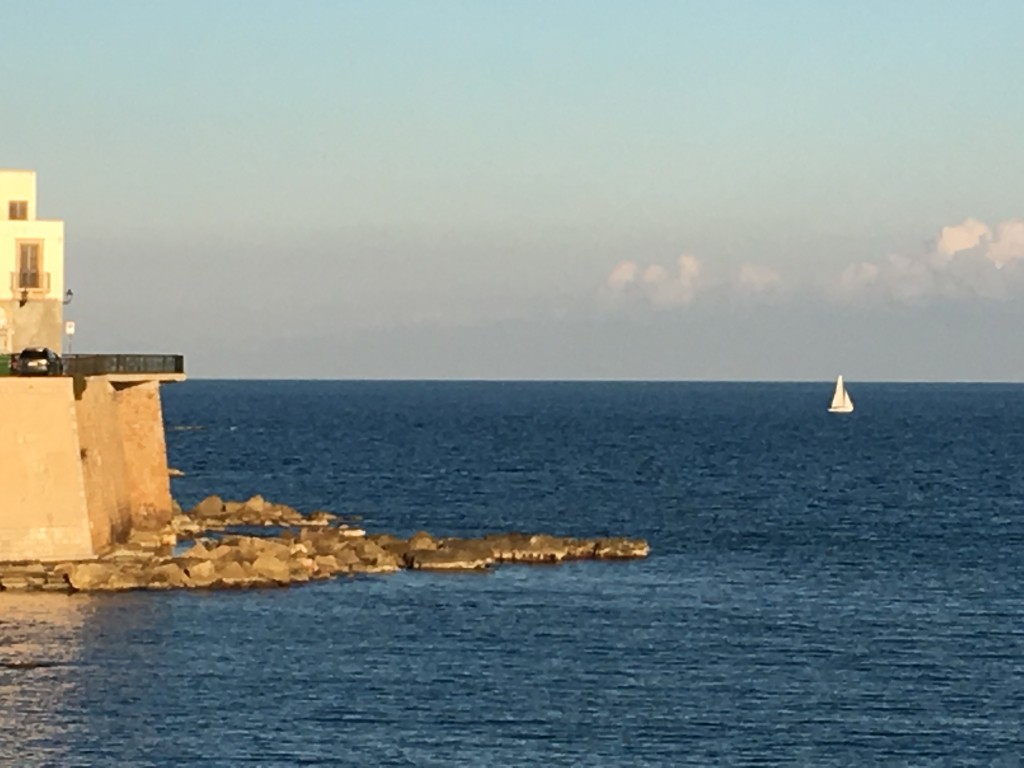 It's now nearly three weeks since I checked my email after waking early to see that I had received my results for my Honours. It was a genuine feeling of pleasure and exhilaration to see that I'd achieved my goal of First Class Honours. It seemed surreal to have received my result in Florence, where so many scholarly activities had taken place.
Most importantly achieving the grade level made entry into the PhD program at my preferred institution highly likely. In the following days as we continued to enjoy the amazing sights of Florence, I waited somewhat anxiously to hear about my scholarship application.
Much to my delight an offer arrived.
This post is not, however about my receiving the offer that I'd wanted or to show-off about my results. That said I'm pretty chuffed. This post is actually about setting sail for the next challenge.
"What's Next" is truly before me now.
As I considered "What's Next" nearly three years ago, I realised that I wanted to do something different. At that stage I wasn't quite sure what that would be. In my mid-fifties I knew it was not going to be time to sit in a comfy chair with my feet up. I also knew that I was not going to leave my firm to continue in a similar vein, as to do so would not give due respect to the organization that I'd been privileged to be involved with for over 20 years. There was also the practical realisation that continuing to pursue similar endeavours elsewhere would require substantial effort for a reward nowhere near as great at either the professional or financial level.
As I have posted previously, my firm provided an opportunity to give proper consideration of my future through access to a program that was at the time called "Pinnacle" but as I preferred to call "God's Waiting Room". Interestingly, I understand it is now called "Elevate", which seems to very definitely have picked up on the "God's Waiting Room" theme! During this period of preparation for "What's Next" it was recommended that I read Herminia Ibarra's book, Working Identity: Unconventional Strategies for Reinventing Your Career. The key theme of the book is to experiment and try different things before leaving your chosen career. Thanks Tim for recommending this book, it along with your advice have been invaluable and are the reasons that I am where I am today. That includes sitting in our Airbnb apartment in Siracusa Sicily on a late December's day writing this post!
As I sit here typing I can't say that the last three years been carefully planned but they have followed a course of experimenting as suggested in Herminia Ibarra's book and by my invaluable mentor and friend Tim. I have thought about what I wanted to do. I've talked about it with my favourite person, family, friends and associates. I have met with people who work in different fields. The only wasted time in the process was a meeting with a Head-Hunter, who was keen to place me in a similar role to that which I was leaving.
I have experimented with writing via this blog, articles for The Adelaide Review, and reviews on Trip Advisor etc. Through this experimentation it has become clear that I will not make my fortune as a professional blogger, however through the blogging process I have made contacts with people around the world who share many of my passions and interests and I am so much the better for reading their posts and engaging in conversation with them.
I also experimented with University by enrolling in a couple of undergraduate subjects in an unrelated area. I met and talked with a small group of academics who gave me the benefit of their insights over a number of meetings. All of this has led me to this point where I am about to embark on my chosen course to commence a PhD.
So now as I sit in our apartment in Siracusa, Sicily writing posts for my blog, Trip Advisor and Airbnb reviews and work on a journal article about my research, I realise that I have completed the first phase of "What's Next" and that I am now setting sail for the next phase.
It's a very exciting place to be!