Coffee after our early morning bike ride is part of my weekly ritual.
During the week I was sitting with my riding buddies at coffee lamenting not having sunglasses to deal with the morning glare. It provided me with a great opportunity to talk about how my sunglasses got wrecked at Mt Etna.
It was on our two daughters' last day in Sicily before they headed off for the next part of their holiday. We organized a day tour to Mt Etna. While my favourite person, our youngest daughter and I had been there before, our eldest daughter hadn't and was super keen so I arranged a tour rather than a self drive.
I'd done the self drive before, something I wasn't keen to repeat as the road is narrow and very windy.  Sitting in the passenger seat was so much more relaxing for someone used to driving on the other side of the road!
We didn't visit the summit on this occasion as our tour guide wasn't licensed to do so and it has become very expensive.  None of us were that concerned. Our guide was a geology student and his insights about the mountain more than made up for not going to the summit. He took us to to places of interest that we would never have visited on a self drive and provided an enormous amount of information about Mt Etna, it's past eruptions and volcanoes generally. For example, I was astounded that the total number of fatalities at the hand of Mt Etna was just 9.
However the point of my coffee conversation was about my sunglasses!
The day of our tour was a pleasant winter's day, infact quite sunny. We were very lucky as the day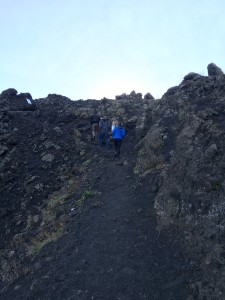 before had been wet and the day after the mountain was clouded in and received its first significant snow fall.
Given the day it seemed logical to put my sunglasses on for the walk to one of the old craters. It was a long walk, initially a gentle slope providing us a chance to survey the changing landscape. Our guide explaining why the terrain changed as we we moved up Mt Etna.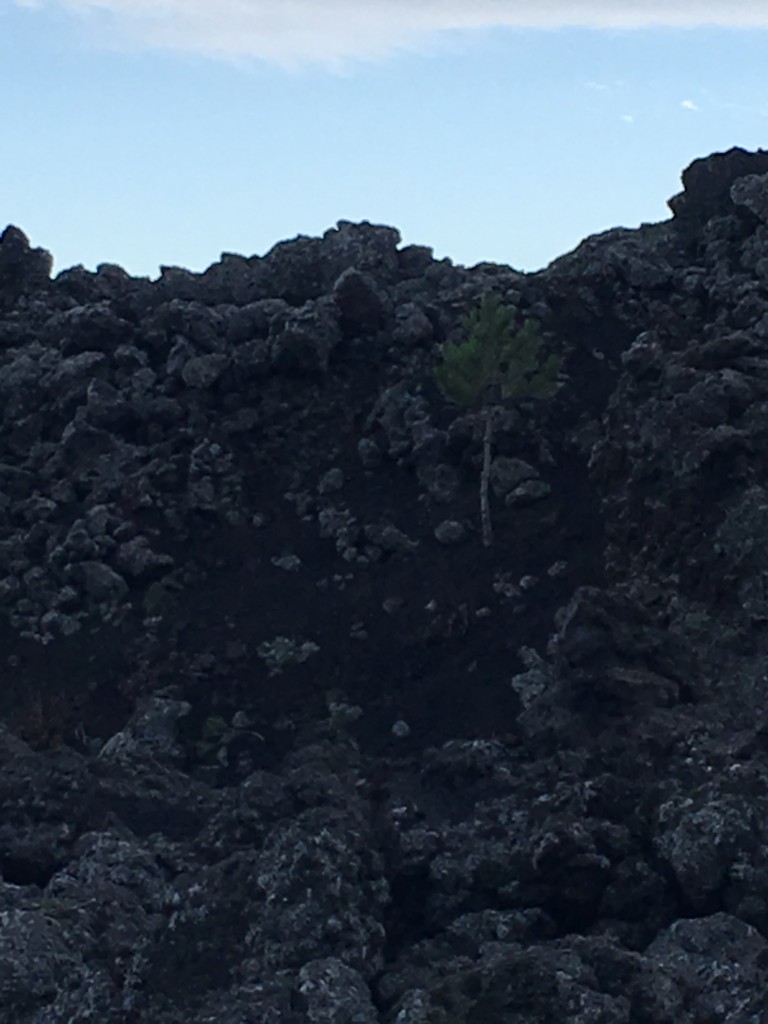 As we reached the crater the wind started to come up. Our guide checked we were all OK and happy to keep on going along the edge of the crater. He suggested that we should all hold hands as we walked along the edge of the old crater. My favourite person decided along with a couple of others that she wouldn't go on but my daughters and I decided to keep going. The wind kept getting stronger and it was quite unsettling. My elder daughter seemed comfortable to keep going but I sensed my younger daughter now at the end of the line was a little less certain.  I turned around to check to see if she was alright  and just as I did a huge gust of wind come through and with  my new pair of sun glasses, bought specially for the trip blew off my face.
For the next few seconds I watched as they bounced across the lava and settled towards the bottom of the old crater about 50 metres away.  In the wind it was too hard for me to get them, however our guide clambered down and retrieved them however they were scratched beyond repair.
My daughter was concerned about my sunglasses but I was just pleased that I hadn't been wearing my normal glasses.
It was a great day and without the sunglasses I wouldn't have had the chance to talk about Mt Etna over coffee!
Some facts I think are interesting about Mt Etna :-
It's an active volcano and erupted just a few days before we arrived in Sicily in December 2015. The place that we had driven to in 2008 no longer exists as a result of an eruption
Its volcanic soil makes the farming land around it very fertile, however if there is an eruption and the lava flows across your land, the land is no longer yours. So the lava comes with a mixed blessing!
It's approximately 3350 metres high although that changes a little given eruptions.