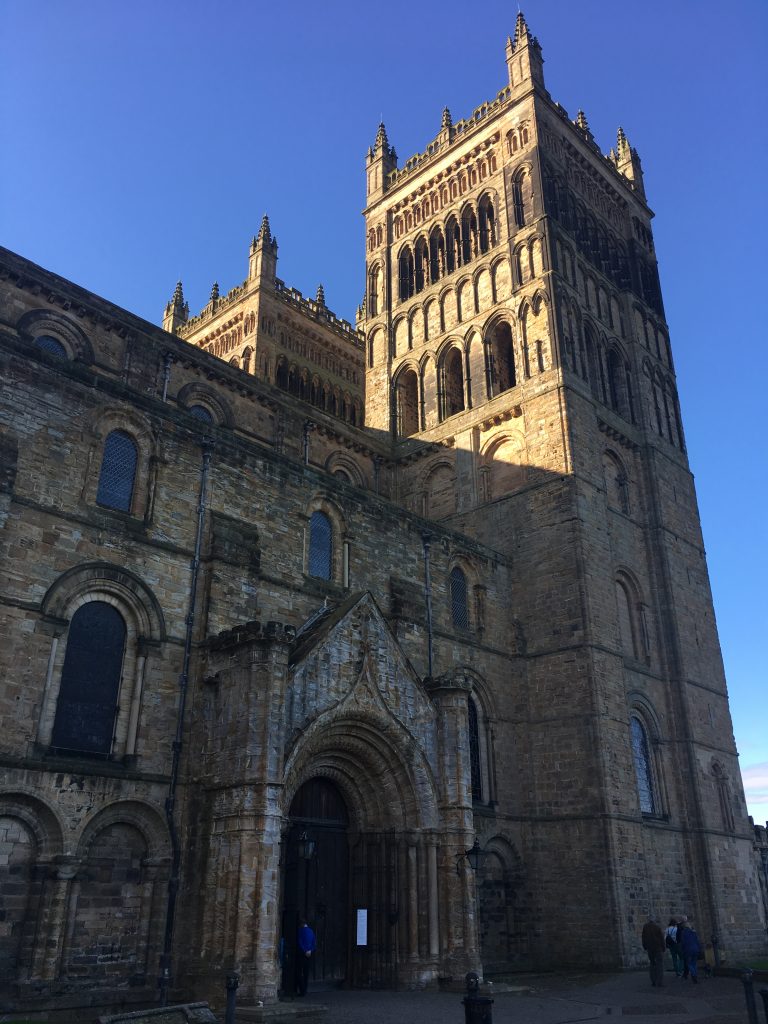 Durham Cathedral
After a few days walking the streets of Edinburgh it was into the hire car and off to York.
We' re just over halfway into our trip and I was feeling like I had sensory overload.
I'd packed so much into our time in Scotland. There was so much I wanted to see, that I'd broken with the vow of Slow Travel. Our arrival in Edinburgh and our decision to rent an Airbnb apartment rather than stay in a hotel or B&B meant we could go at our own pace.
While B&Bs are lovely there is a measure of regimentation. B&Bs require getting to breakfast at a time that, quite reasonably, works for the host and not necessarily the guest. With our Airbnb, it was at our pace and it was awesome! Driving between locations is also a departure from our usual approach of point to point travel using the train system.
Our days walking in Edinburgh were welcome, however leaving Edinburgh, meant it was back into the driving routine, but we decided on a self-imposed limit – one Castle each day and perhaps one stately home. Definitely back into the Slow Travel regime.
Our drive down from Edinburgh to York was broken by an overnight in Durham, principally to visit Durham Cathedral.
Our relaxed travel didn't get off to a relaxed start. We'd arranged a hire car from Waverly Station in Edinburgh and an Uber car to drive us to the car hire depot. It was only a short trip, but our driver despite my protestations took us to the hire return point which I knew and said wasn't the right place. In fact, at Waverly Station it is nowhere near it. It brought back memories of an experience we'd had in Bordeaux Railway Station a few years before.
Rather than try to get our  driver to take us where we needed to go, we decided we'd get out, go into the car hire office and ask them where the hire office was. It was quite a walk and with almost no help from the car hire staff and a virtually useless map they had printed off, we set out for Platform 2. It might as well have been Platform 9 3/4s. About  20 minutes later we found it! I'm not sure why the process of hiring a car is so unnecessarily complex, but I'm quite sure it is who mobile phone companies borrowed their approach from!
In any event about an hour or so after we left our relaxed and comfortable Airbnb apartment, for what should have been a five minute trip to pick up the car , we were finally in the car and on our way. Our Slow Travel plans were back on track.
Sticking to the mantra of only one Castle we settled for Alnwick Castle, meaning we gave up the opportunity to visit Doune Castle, famous in my mind for its role in Monty Python's Holy Grail – it was a hard choice.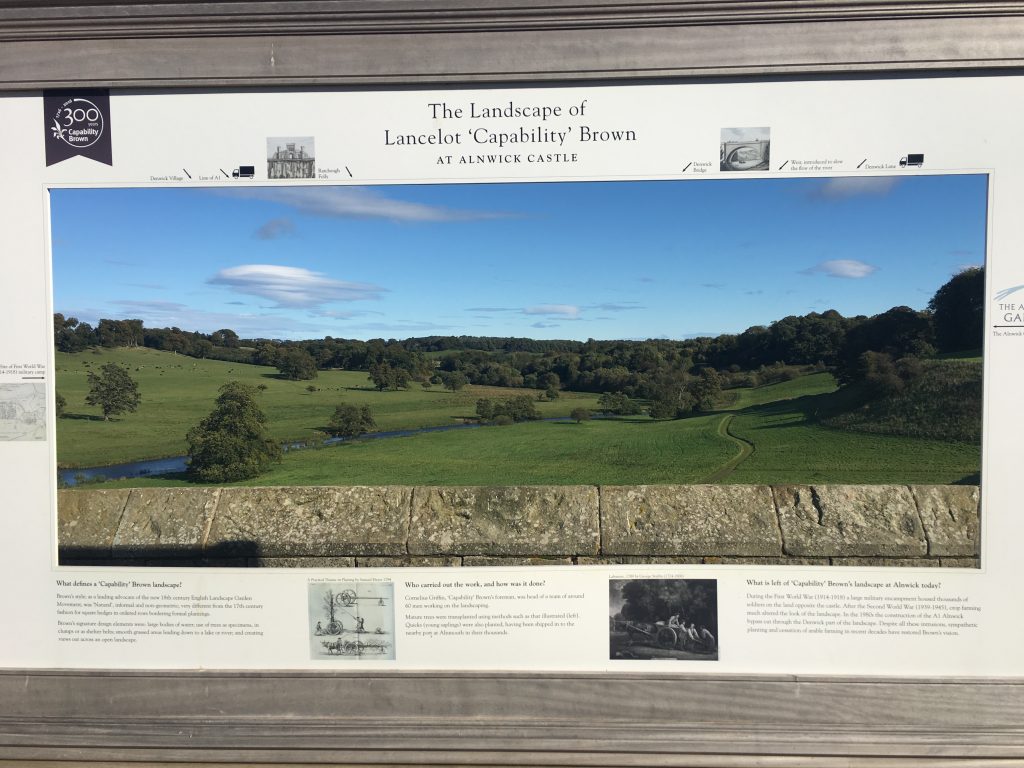 Alnwick Castle has featured in Harry Potter and Downton Abbey. It's in wonderful condition, with the state rooms all being quite marvelous, but the gardens designed by Capability Brown steal the show, and honestly I would not give you tuppence for the newly built gardens alongside – it's definitely much better suited to young families than for the "more mature". Unfortunately the entrance price to the new Gardens was much more than tuppence. We quickly put the garden ticket price down to experience and headed back to the car with enough time to take the delightful drive to Cragside.
Cragside is a National Trust home and garden. This was a highlight and given our decision to visit just one Castle meant we had plenty of time to explore the house and garden before driving onto Durham.
Cragside is the home of Lord Armstrong a Victorian inventor and is
apparently the first house lit by hydroelectricity. The house was extended on many occasions and provides fascinating insights into Armstrong. I love that he built one of the many extensions  in anticipation of a Royal Visit. Lord Amstronds innovations and experiments are shown off While I'm sure the room that in sure I saw designed for kids, but we along with another couple were enthralled by it. Our late afternoon visit to the garden was glorious. This is a stunning place and wandering the gardens was truly the essence of Slow Travel. We were able to wander through the rock garden across the iron bridge above the stream that powers the home and onto the formal garden. All were magical in the late afternoon light.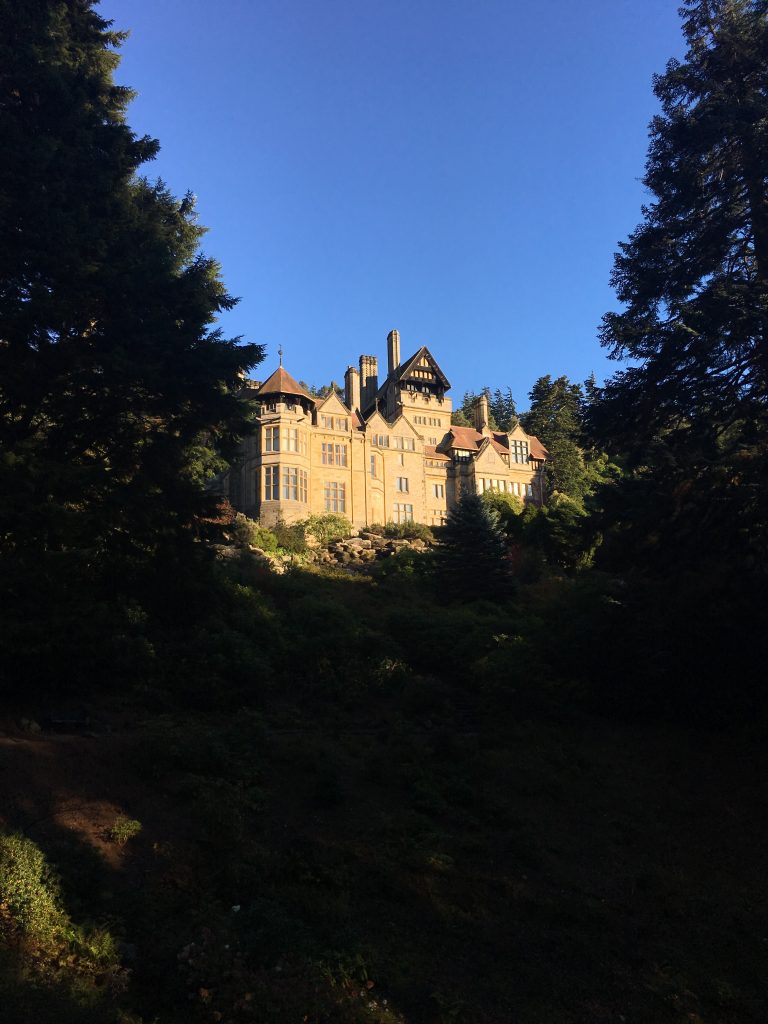 With the light fading we headed off to our stop for the night in Durham. We opted to break the trip to York at Durham so we could visit Durham Cathedral the next morning. Set on the top of a hill, the Cathedral is imposing and being a Sunday we were able to visit at a time when the building was serving its purpose. We were too late for the beginning of the service so listened for a while outside and marveled at the choir and magnificent organ.
Not being in a hurry enabled us to wander the streets stopping for coffee. We had a chat with a couple of locals about Durham, Yorke and other largely inconsequential matters. On a delightful Sunday morning what could be better?
After our coffee and mandatory scone, it was back into the car for the drive to York.
We'd planned a few days in York to take it all in. I'm so glad we did.  We arrived a little early to check-in and so walked upto York Minster and around, with the goal of being back in time for Evensong.
Being a Sunday afternoon, it was bustling and the Old Town was full of buskers. I loved the piano player in front of York Minster but we stopped to listen to many others, always making a contribution when we took a picture
We continued the musical theme by attending Evensong in York Minster, our second church service of the day. We were seated behind the choir and just in front of the amazing organ. For someone who loves music this was truly special and uplifting. With the service completed and the evening setting in we walked back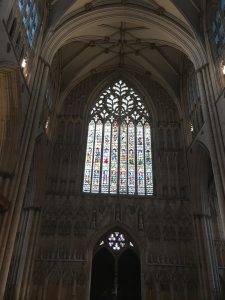 to check-in
I'd booked a small room at the Hotel styled B&B and was a little worried our room would be too small, so much so, that I thought I would ask if we could get an upgrade. There was no need, we'd been given an upgrade to a suite, the most spacious room in the establishment. As a much more religiously devoted friend of mine would say, this was divine intervention.
Our accommodation provided the perfect base for a leisurely stay in York.
As we quickly discovered the school at the end of the street, St Peters which is apparently the 4th oldest school in the world was also the place Guy Fawkes went to school. We enjoyed a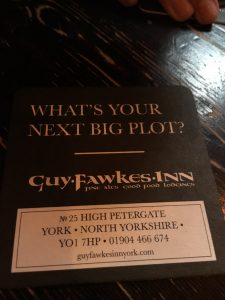 drink at his birthplace – The Guy Fawkes Inn.
As we relaxed into our time in York we were able to leave the car parked and walk around the town. The old streets with street fronts much more modern, albeit still old, mask the medieval structures behind.
We strolled down The Shambles and it's adjoining streets. It's very touristy but hey we are tourists!
Continuing a theme of limited attractions we made a focus of one of our day's a visit to another National Trust home, Treasurer's House. It is the  home of someone who I suspect in today's world would be described as an obsessive compulsive.  He was the grandson of a famous industrialist who had invented "The Economiser", a much more efficient boiler. It was an important invention and made the family's fortune.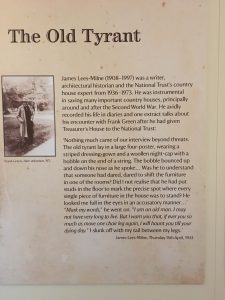 The house and contents was given to The National Trust by its owner Frank Green on the proviso it would be left exactly as is. He placed studs in the floors showing where furniture MUST be placed.  The comment by James Lee-Milne ring true throughout the home.
The home is filled with pictures, furniture, a massive model ship made during the Napoleonic War and so much more. Amongst the many stories of Frank Green told by the National Trust's fabulous volunteers was how Green had bought a job lot of portraits to place in his imposing staircase – a sort of an invented past as his family were definitely New Rich.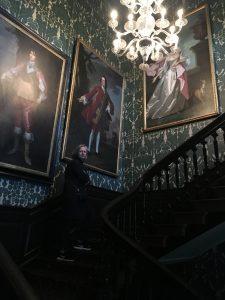 The home was visited by Royalty, where the then Prince of Wales had chosen to stay at Treasurer's House rather than other more traditional locations.
York is a wonderful place to visit, made all the better if you're  not in a hurry.
It's said there are enough pubs to visit a new one every day of the year.
We are travelling slowly but not that slowly!