We were sitting in our hotel in Venice thinking about the last part of our trip, at that stage still a couple of months away, when I found a  post on pizza in Naples. That sealed our decision to go to Naples!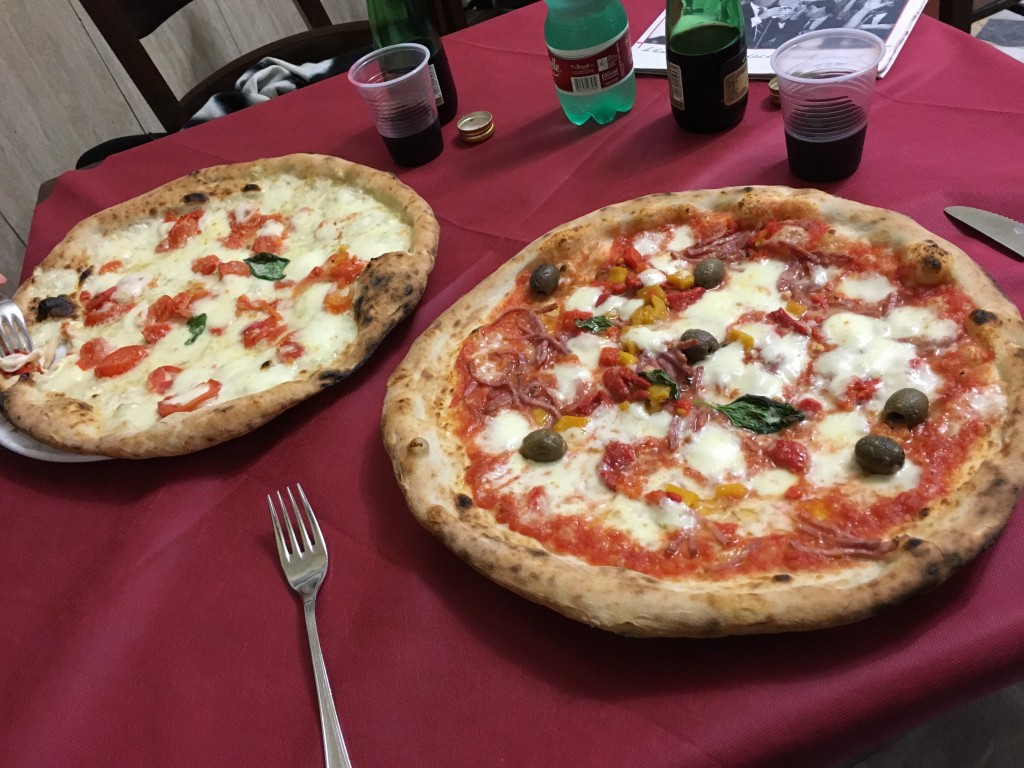 We planned to stay 4 nights and stayed 6. It could easily have been more but that's for another post.
Naples is a big city with attitude and that's evident as you venture into the domain of the best pizza you'll ever eat. Service is gruff almost abrasive – you might get a menu or have to hunt one up yourself at Di Matteo or Sorbillo. At Antica Pizzzeria Porta Alba you'll at least be handed a menu.
Di Matteo  and Sorbillo enjoy reputations deservedly for Naples best pizza. You walk in past the pizza oven with people milling around for their takeaway pizza and are told to either sit over there or go upstairs.  About a minute later a couple of plastic cups, knife and fork are plonked down in front of you and then the waiter is back to take your order. These are places that exemplify "you're here for a good time but not a long time". A couple of minutes after you order your pizza its dropped in front of you and that's it. Eat your pizza drink your wine and for less than €20 for the two of us we were out of there!
Your first pizza is easy. Naples is accepted as having originated the Margherita pizza so it's a must. There are plenty of other options including one with wurtzel and chips – we passed on that!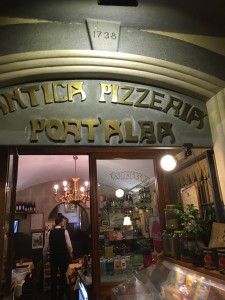 Antica Pizzeria Port' Alba dates back to 1735 and is reputed to be the oldest pizza restaurant in Naples. Its a quaint old restuarant which unlike the other world famous pizzerias I mentioned does more than just serve pizza. There is a full menu to choose from, although we didn't take that option. It also serves wine in a glass that is of reasonable quality as well as  offering a wine list if you looking for something better.
I highlight the wine because at both Di Matteo and Sorbillo the wine is average at best (no wonder all the reviews I read mentioned the beer!) and served in plastic cups. The red wine at Di Matteo is served chilled!
So the verdict, while the wine might be average the pizza very definitely isn't. Sorbillo rated by many including one of my favourite bloggers Jules as Naples best was good  but Di Matteo was our favourite even with the most average decor, disinterested staff and chilled red wine.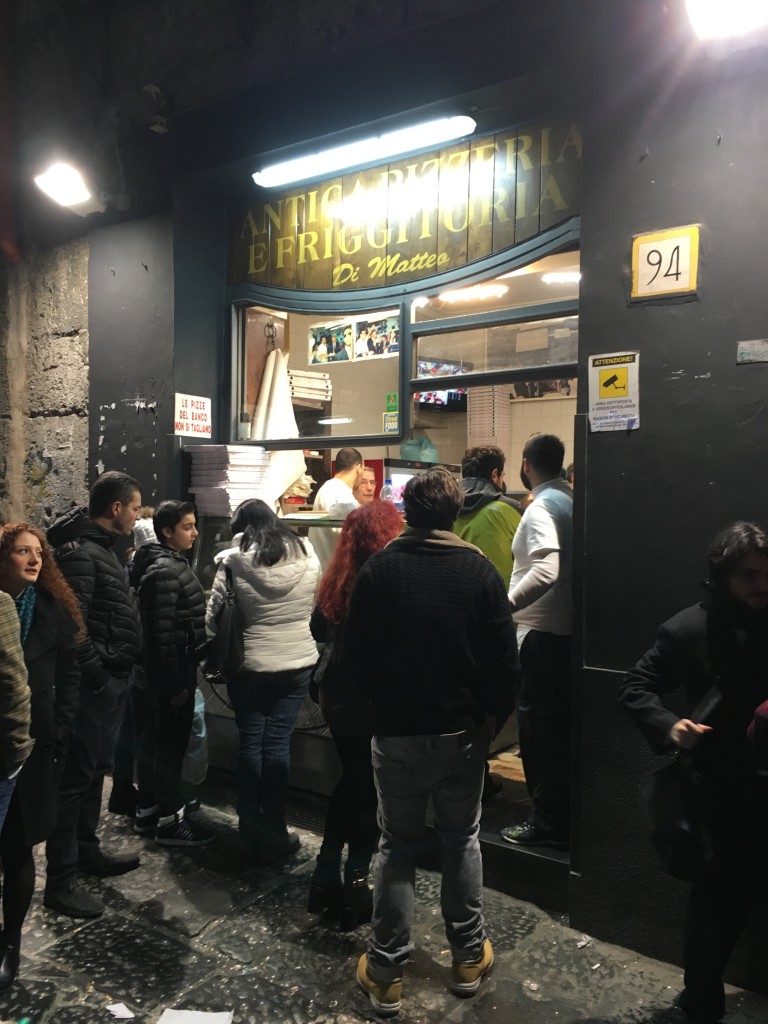 Both Sorbillo and Di Matteo do a roaring takeway and street trade. The mix of people and cars outside these two pizzeria's is the stuff of legend. Ordering takeaway looked like fun but it involves understanding Italian as your order is called over a crackly speaker or shouted out in Italian which was never going to work for us.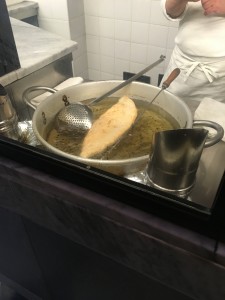 There's also the fried pizza option. Freshly made its a a Naples delicacy.
When in Naples eating has to be pizza. Its a life changing eating experience with its chewy pizza base and woodfired taste, crisp on the outside and soft in the middle. It's just divine and guaranteed to ensure that any pizza you have anywhere else will never be as good!