It is so easy to get stuck in Rome and not venture far afield. There is quite literally something amazing at every turn. An ancient ruin here, a church there and of course an obelisk always nearby. There is also some of the best shopping you'll find anywhere.  The days whizz by with visits to the Colosseum, Vatican, Roman Forum, walking through the gardens around the Villa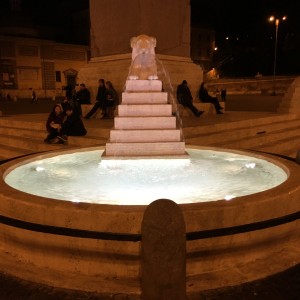 Borghese …
In our case this has meant that in previous visits to Rome we haven't ventured very far, however this time we made a decision to venture a little further afield. This meant looking at the guidebooks for that section towards the back of the book that says something like Day Trips or Excursions. It will never say what to do when you've seen all there is in Rome as that is just not possible!
So with a steely resolve we ventured to the back of the guidebook and settled on Ostia Antica for our first foray out of Rome. It's about 25kms from Rome and easily accessible by Metro and Train.
Ostia Antica is a port city that it is said dates back to the 7th century BC. A town whose fortunes rose and eventually receded just as the sea did, such that by the 9th century it was abandoned. It's a port city that is now some kilometers from the sea!
With the entrance fee paid and our guidebook purchased at the site in hand we were ready for what turned our to be something very special. After just a few minutes at Ostia Antica we wondered why there is such an obsession with Pompeii. Perhaps it's Vesuvius? Ostia Antica is better preserved, easier to walk and because everyone goes to Pompeii it is less crowded.
A trap with Ostia Antica is that it keeps getting better as you keep walking. Dawdle at the entrance looking at the tombs and enormous baths and you run the risk of the day getting away from you before the real treasures are found.
Quickly it becomes easy to imagine life in the town.
It was easy in the fish shop to visualise the fish in the tank, preparation area and grill. Walking through the bar it didn't feel that different from some of the bars and restaurants we frequent today.
There are public baths and laundries, as well as a public toilet the result of rennovations to the Forum Baths in the 5th century.
The Roman Theatre forms a centre piece and is still used today. I found myself imaging what it would be like to sit there on a warm summer's night listening to a concert.
The buildings are in such good condition that you can walk into a house and up the stairs to take in the views from the first floor. The scale of the town becomes clear standing in the Forum Square.
As well as temples to the Gods, there is a Christian Basilica and a Synagogue.
There are apartment blocks, houses for the wealthy and not so wealthy,  gymnasiums and clubs. In so many ways Ostia Antica is like any normal suburb it's just that it's the best part of 2500 years old!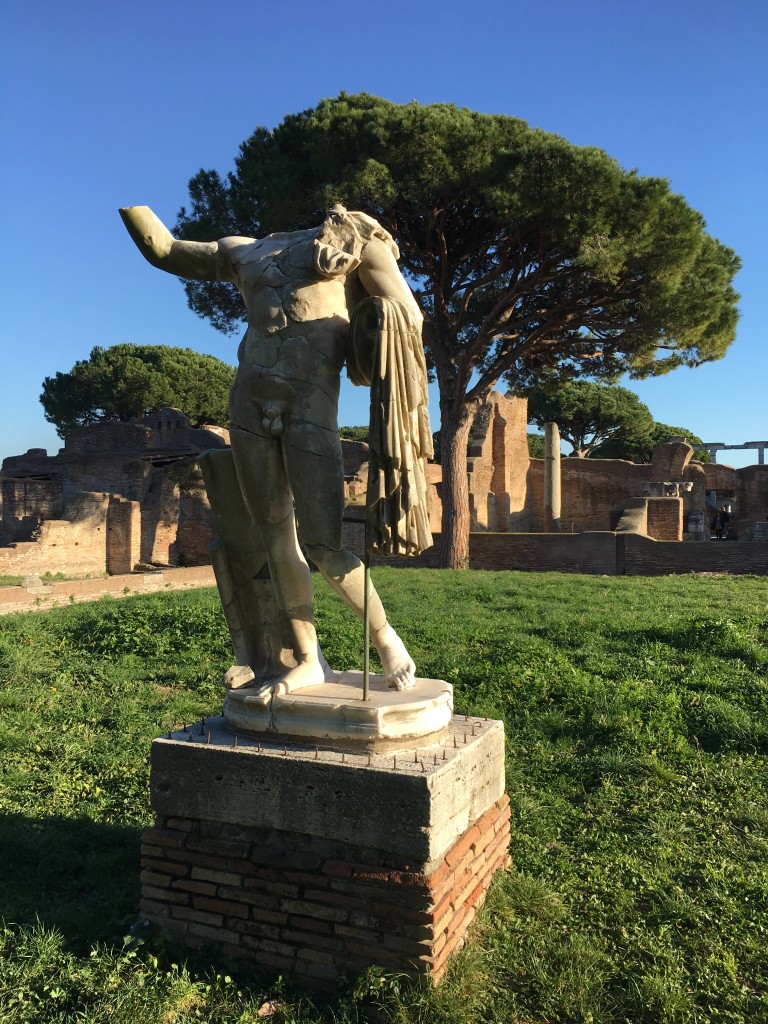 The guidebooks suggest  that Ostia Antica can be seen in a coupe of hours; I'm not sure a couple of days would be sufficient! We spent the best part of a day wandering and walking  the streets of this vast site and don't think we discovered anything like all of its treasures.
Ostia Antica is a gem. We have been lucky enough to visit Pompeii and Heraculum and honestly Ostia Antica is in my opinion better and just a half an hour from Rome.
Travel Tip – be game look at the back of the Rome guidebook and get out of the Eternal City. There are rich rewards to be had.