Arriving in Palermo you quickly become aware of its relationship with the sea. It's a port city and infact that is why it was settled by the Phoenicians in the first place. Wherever you are in Palermo you feel close to the sea.
You also quickly become aware of the North African influence. It's evident in the date palms, architecture and the food.
Through our two previous visits we'd seen the city highlights but with more time on this visit we were able to take it slowly. Walking the streets, seeing the people going about their daily lives is the best way to experience a city such as Palermo.
As you walk you quickly come to the realisation that traffic lights are really only guidelines and that you are taking your life into your heads each time you cross the road. I'm not even sure that the Nuns are safe crossing the roads in Palermo! You also realize that large cities with lots of cars can survive without traffic lights every 100 metres.
Taking the time to immerse yourself in Palermo allows you to build a picture of the city. It enables you to move past the perceptions you might have from the books you've read and stories you've heard. In three visits we haven't seen anyone gunned down although the memorials, such as the city airport name, Falcone-Borsellino,  are reminders that the city does have a dark underbelly. Falcone and Borsellino were both judges murdered by the mafia in 1992.
We compartmentalised our visit. Arriving by bus lunchtime Saturday, we caught a taxi to our hotel. Being the only non Italians in our shared taxi, we were the last to be dropped at our hotel and were charged about 50% more than what we'd been told was the norm – that unfortunately is what happens in cities like Palermo. You can stress about it or shrug your shoulders – the latter keeps the blood pressure down. The hotels are wise to this and have arrangements with taxi companies or private drivers for fixed fares to the Train Station and Airport which help.
Our hotel was located in the more residential part of the city and a short walk to the main shopping boulevard , Via della Liberta which houses Prada, Max Mara at the upper end and becomes more mainstream as you approach the older part of the city. Visiting in sale time means there's always a bargain to be had and with the effort the sales' staff put into selling my favourite person a winter coat, I'd say things are pretty grim in retail! A walk down this street and a meal in one of the local restaurants is a way to gently ease yourself into Palermo.
We also went back to a favourite cafe from previous visits Spinato – its an institution and charges accordingly! We sat outside something we had done in both of our previous visits to Palermo. There used to be a dog at Spinato who would scare off the beggars but unfortunately it died a year or two ago, making it the job of the waiters to move the beggars on – they are nowhere near as effective.
Our second day in Palermo We did as locals do on a sunny winter's days and headed to Cefalu a lovely seaside town. It's about an an hour away from Palermo by train  assuming the train is on time – ours was  running 40 minutes late! Still, we did arrive in time to visit the Duomo .
As so often seems to be the case the train stops at the most ordinary end of town, Cefalu is no exception, leaving an ordinary first impression of this delightful seaside town. The guide books all say just walk the streets and they are correct – its charm is in its narrow streets that take you to the Duomo or to the beach. Its little harbour is a lovely place to sit and contemplate the view.
My favourite person's sole reason for wanting to vivit was to see the Duomo which Roger II commenced in 1131. He'd planned it as his place of burial but died before it was completed and had to settle for burial in the Palermo Cathederal. We are both huge fans of Roger II and his influence on Cefalu by way of the Duomo and Palermo  is pronounced.
An afternoon train ride back to Palermo allowed us to visit one of the local bars. We were directed by the hotel to Lord Green which is always busy in the early evening.  It offers a "free buffett" as part of the coperto as well as the usual nuts and chips and the locals certainly seem to fill up on it. For us it was a nice place to sit and have a drink before going onto dinner.
After a couple of days we were ready to embark on the old city, markets and street food the heart and soul of Palermo. We arranged a street food tour for the morning of Day Three and a walking tour for the morning of Day 4. Being winter we had each tour to ourselves – what a bonus!
With many weeks under our belt in Italy and Sicily we were very accustomed to the markets but it was great to have an explanation of how this one functioned. For example, there was not a lot of fish available because the weather had been poor and as its always "catch of the day" in these type of markets. As we wandered through the Mercato di Capo, one of the three main food markets in Palermo, we had explained to us that the strawberries weren't just any strawberries but had the place they came from as part of their name. We were also told that each particular variety of zucchini had its own purpose some for boiling, another for grilling, roasting etc. Then of course there was the street food.
Palermo's street food is world famous. Depending on who you believe it is in the Top 5 or 10 places in the world for it. It's simple soft and generally fried or boiled. You might think boiling is the way to go but when its lung or spleen you might need to think again! The veal cartlidge in a bun is also a challenge. However, there is also  arancini, chickpea frittas, potato croquettes and because they were in season fried artichokes. Over two days we sampled them all and finished off with some of the local sweets – cannoli etc. Palermo's street food can be confronting just as the market sights can be.  The markets are definitely not all pretty arrays of fruit and vegetables but the food markets are one of the must see aspects of Palermo.
With a stomach full street food we decided to walk to the seafront. The coast views and gardens could be quite something but its Sicily and so they nearly are. A walk along the seafront is interrupted by random building works, a need to focus on what's on the ground in front of you, as in Sicily its a national pass time to not clean up after your dog, and because it's Palermo there is rubbish everywhere. None of this paints a great picture but it is about getting into the rhythm of the city -and when you are its not such a big issue and in a way part of the city's charm.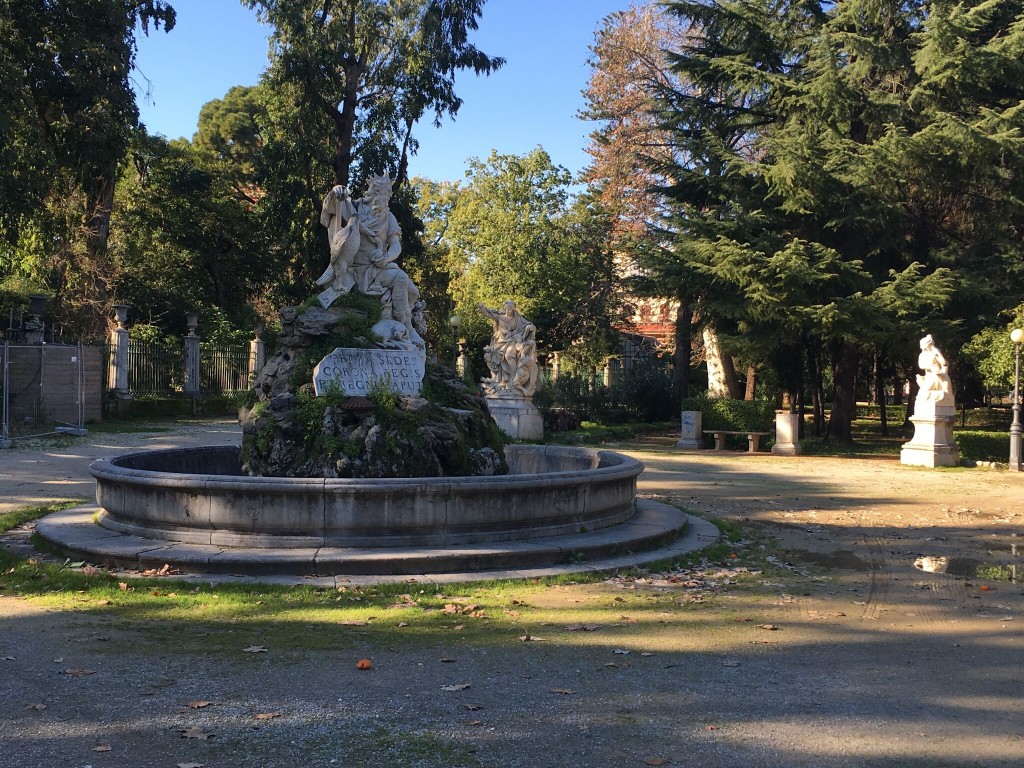 After an afternoon to attemot to and walk off the fried food we didn't need dinner, particularly after we made a second visit to Spinato! This time we sat inside where temptation is everywhere – how can one place have so many delicious sweet things to eat?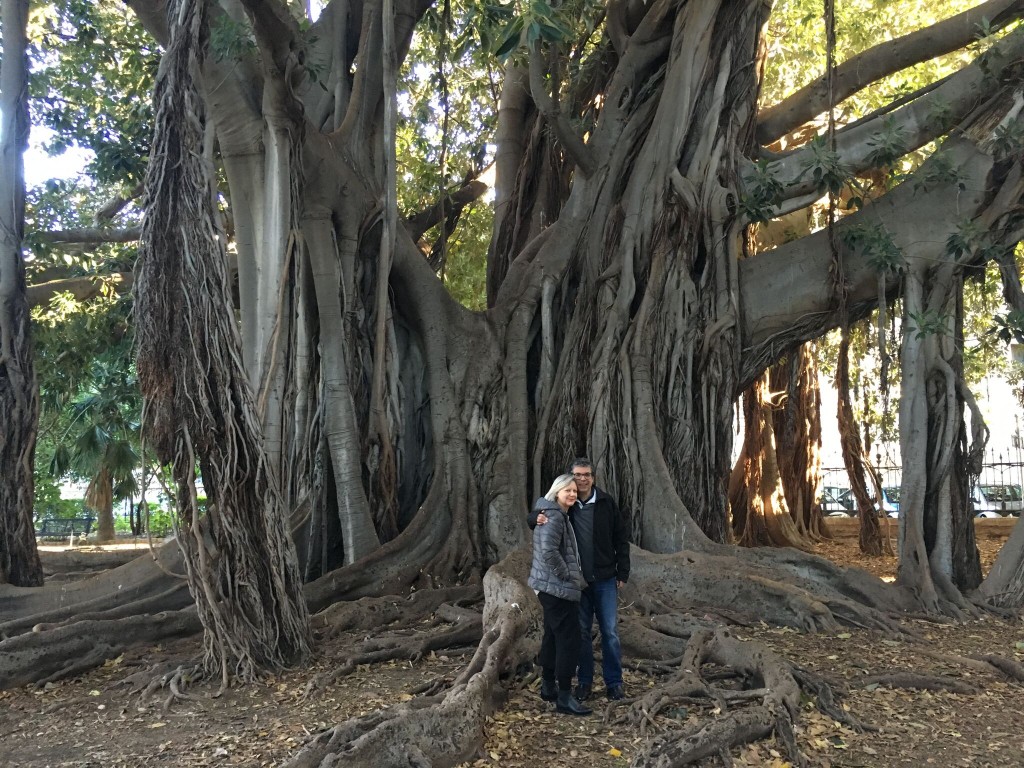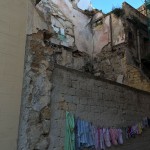 Our last day in Palermo and Sicily started with a walking tour of the old part of the city. Our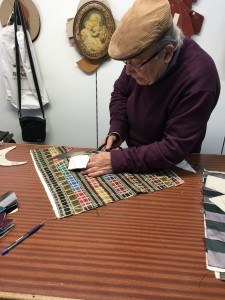 tour started in the Garibaldi Gardens where we felt quite at home with the enormous Morton Bay Figs. From there it was a walk through the narrow streets taking in the old, the bombed out (Palermo still bares the scars of WW2), the churches, the city square and the city's major market, finishing in the Quattro Canti. Walking the city streets with a local provides a different perspective to that gained when you are just armed with a guidebook. We visited a hat shop, an old boot maker who in his 80s is still making shoes by hand, walked up a street where there were numerous metal work shops not making works of art but grills, benches, bbqs etc. we saw a lot of street art and many of the city's major sights.
We spent our final afternoon walking to the Cathederal and gardens nearby.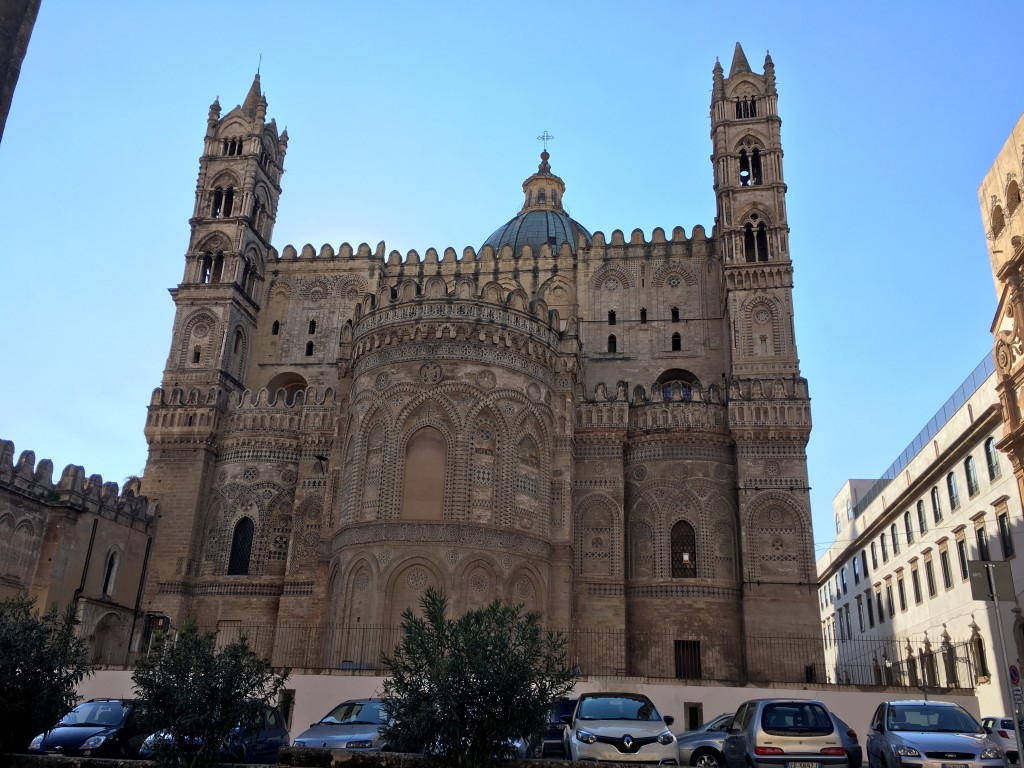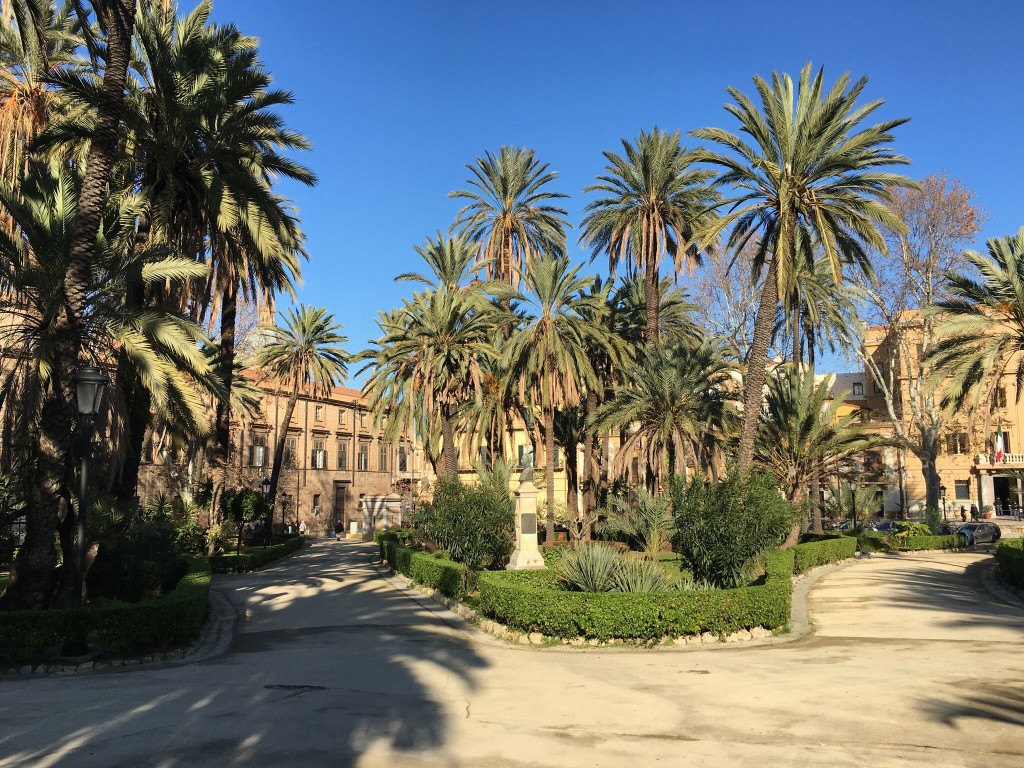 This was our third visit to Palermo and it is only now that I feel that I am starting to get it! It's not just the old city, churches and markets, it's a city that has a modern feel with interesting bars and restaurants mixed in as well.
Perhaps next time we visit the Archeologcal Museum will be open. It was closed for rennovations  on our first and second visit and still is!