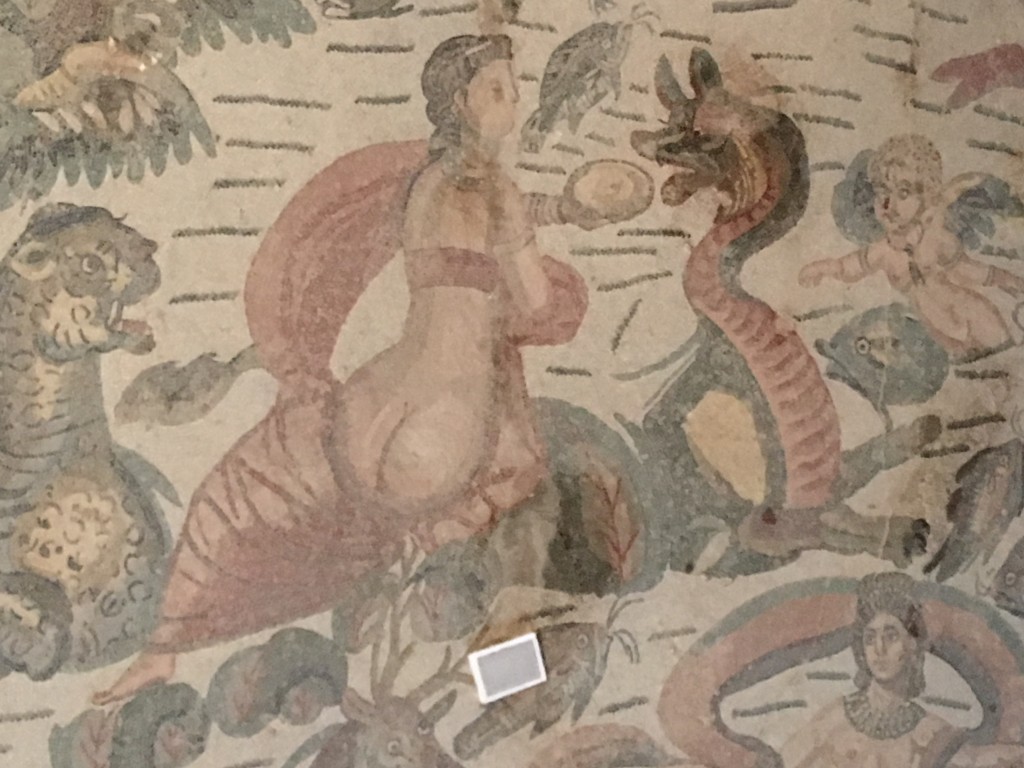 The recently renovated Villa Romana del Casale and its mosaics often feature on the itinerary when visiting Sicily and with good reason. What often doesn't get included is a visit to the nearby town Piazza Armerina which in my view is another of Sicily's hidden gems.
A day trip to Villa Romana from Siracusa by public transport involves an early bus or train to Catania and then a bus to Piazza Amerina. The general advice in Sicily is to take the bus option as they are generally considered more reliable. Once in Piazza Armerina it is necessary to arrange a transfer or shuttle bus to Villa Romana about 5 kms away. We arranged for a transfer from Central Sicily Tours (the number one tour operator in Piazza Armerina and only one) to Villa Romano. As prearranged Roberto was there to meet us at the bus stop, a good thing as we timed our visit to coincide with a cold snap – it was 1.5C when we got off the bus and raining. The previous day's snow was still on the rooves of the buildings.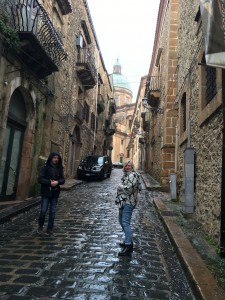 A web search of Puzza Armerina will probably tell you all about Villa Romana, as will a visit to Trip Advisor. They don't in my opinion do justice to Piazza Armerina.
It is a town that doesn't seem to have been afflicted with the Sicilan concrete obsession. The older part of the town was spared post WW2 concreting due to its being overlooked for development in favour of Enna. As a result a visit to Piazza Armerina provides a chance to see the old town as it was.
The town has many churches and piazzas. A number of the churches are not open but the works of art have been carefully removed and transferred to a gallery near the duomo.
There doesn't seem to be a lot of tourist infrastructure with the number one Trip Advisor restaurant being a small family owned bar in the middle of town, Cafe des Amis which is "famous" for its arancini but should also be for having the cleanest toilets in Italy!
Piazza Armerina is a lovely town which will I'm sure eventually be discovered.

However, the true reason for our visit was to go to Villa Romana, it had undergone a major renovation since our visit in 2011 and there was now many more rooms to see. A benefit of our visit coinciding with the first snows of winter meant that Villa Romano was pretty much empty. There were perhaps another 3 couples visiting across the 2 or so hours we spent there. Sure it was freezing cold and required a dash between buildings to avoid the rain but to have an uninterrupted view of the mosaics made it all worthwhile.
Villa Romana is one of Sicily's many UNESCO World Heritage sites. The villa is believed to be the summer palace of a member of the Roman aristocracy and built late in the 3rd century. The villa was rediscovered in the 18th century having been covered by a landslide some centuries earlier.
What they rediscovered was 3,500 square meters of mosaics displaying aspects of "modern life" of the time. Our Marco Polo guidebook for Sicily says that the Villa Romana "boasts the finest Roman mosaics in situ anywhere in the Roman world" . The so called "bikini girls" who are actually "working out" are just one of the many scenes of games on display that also includes children's games and chariot races. The immense scene of the hunt tells the story in intricate detail and the fishing scene is also spectacular for it's detail.
The renovations make viewing the vast expanse of mosaics much easier with many new vantage points and the removal of the perspex makes it a more comfortable visit.
It may not be the easiest pace to get to in Sicily but the reward for making the effort is significant. If you visit allow some time for Piazza Armerina itself, I'm sure you won't regret it.
Travel Tip – Roberto from Central Sicily Tours (actually Central Sicily Tours is Roberto) is excellent. Roberto is a delightful man, reliable and helpful. He is obviously proud of his town and happy to show it off. If you are lucky he will take you to the bar where he says the best Arancini in Sicily is made! Our transfer to and from Villa Romana and short tour of Puazza Armerina cost €20. Entrance fee to Villa Romana extra.